UN seeks to regulate seaweed farming
Seaweed farming needs tighter regulation to limit damage to the environment after booming into a US$6.4 billion business with uses in everything from sushi to toothpaste, a UN study said yesterday.
The report said seaweed can sometimes cause harm and spread diseases and pests.
One Asian seaweed brought to Hawaii has smothered some coral reefs by out-competing local plants, the study said.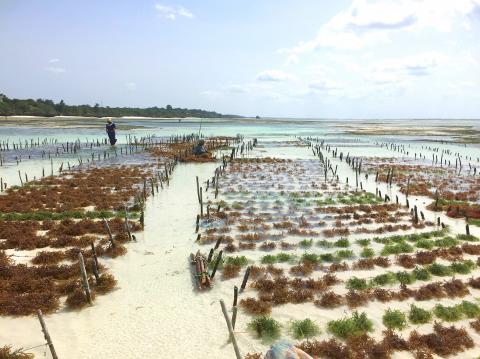 A worker tends a seaweed farm in Tanzania on July 6.
Photo: Reuters
"There's very little regulation" in many nations, said Elizabeth Cottier-Cook, lead author of the UN University study.
"You can take a plant from the Philippines and plant it in east Africa," said Cottier-Cook, who also works at the Scottish Association for Marine Science.
A damaging bacterial disease known as ice-ice, for instance, has spread with a red seaweed from the Philippines and infected new farms in nations such as Mozambique and Tanzania.
Cuts in production caused by ice-ice caused losses estimated at US$310 million in the Philippines alone from 2011 to 2013, according to the report.
Globally, about 27.3 million tonnes of farmed seaweed were produced in 2014, worth US$6.4 billion and up from almost nothing in 1970, the UN University said.
Seaweed is used in foods such as soup, sushi wraps and spaghetti, as fertilizers and as animal feed.
Comments will be moderated. Keep comments relevant to the article. Remarks containing abusive and obscene language, personal attacks of any kind or promotion will be removed and the user banned. Final decision will be at the discretion of the Taipei Times.