Oil prices, gold retreat on interest rate hike worries
Oil prices dipped slightly in New York on Friday as the US dollar rose on exchange markets following robust hiring numbers from the US government.
On the New York Mercantile Exchange, a barrel of West Texas Intermediate benchmark crude for delivery next month fell US$0.13 to close at US$41.80.
In London, North Sea Brent for October delivery fell US$0.02 to US$44.27 a barrel on the Intercontinental Exchange.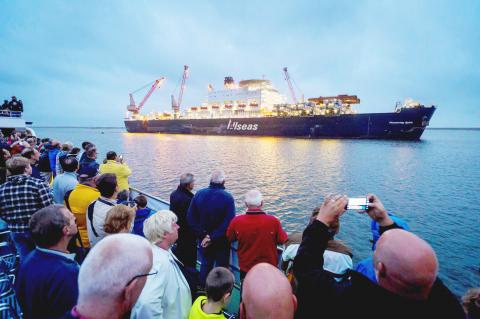 The Pioneering Spirit, the largest ship in the world, owned by Swiss-Dutch offshore company Allseas, leaves the harbor of Rotterdam, the Netherlands, yesterday. The ship is to be deployed to dismantle oil rigs.
Photo: EPA
The greenback, whose strength can influence demand for US dollar-denominated oil futures, rose against the euro and the British pound on Friday. US government figures showed employers added more than 250,000 jobs last month, increasing the chances of an interest rate hike this year and likely adding to the appeal of US currency.
"It's not unexpected to see prices are moving lower given the last two days of strong push higher, in combination with the stronger dollar given the jobs report," Matt Smith of ClipperData said.
"We've also just had the rig count this afternoon with rigs increasing for six consecutive weeks," he added. "But really I think this has less to do with it and more with the movement on the dollar and some positioning due to that."
GOLD
Renewed strength in the US labor market is also threatening to derail the gold rally that sent futures to the best first half in almost four decades.
Bullion has extended gains this quarter, helped by low interest rates and pledges by central banks from Europe to Japan to continue to crank up stimulus spending. Low rates are a boon for gold because they keep the metal more competitive against assets like bonds that pay interest.
"Some people in the market think that rates are going up and therefore the reason to own gold is not as strong," said Bob Phillips, the Indianapolis-based managing principal at Spectrum Management Group.
Gold futures for December delivery dropped 1.7 percent to settle at US$1,344.40 an ounce at 1:48pm on the Comex in New York, the biggest loss since May 24. Prices had the first weekly decline in three weeks.
The odds of the US Federal Reserve raising rates by December climbed to 46 percent on Friday, from 37 percent a day earlier, Fed-fund futures data compiled by Bloomberg show.
The bigger picture for the gold market shows government efforts to boost slow-growing economies ultimately will benefit prices this year, Phillips said.
"You've got England, Europe and Japan all expanding their monetary easing by printing money," he said. "I think gold prices will probably continue to move higher."
BASE METALS
Aluminum climbed as inventories tracked by exchanges in London and Shanghai declined, signaling tighter supplies. Most other industrial metals rose, while copper headed for the biggest weekly loss in a month.
Stockpiles of aluminum held in Shanghai Futures Exchange warehouses fell this week to the lowest since 2011 and those tracked by the London Metal Exchange (LME) had the biggest weekly drop since 2006, data showed on Friday.
While the LME inventories have been moving to other locations, in China the decline is due to local smelters producing fewer ingots, a form of primary aluminum, Citigroup Inc said.
"In China, there is less ingot availability at the moment," David Wilson, an analyst at Citigroup in London, said by e-mail. "But we think this ingot tightness in China may well be just a temporary dislocation."
Smelters are producing liquid aluminum instead of ingots to cut costs, Wilson said.
Aluminum for delivery in three months climbed 1.5 percent to US$1,646.50 a tonne at 3:55pm on the LME, set for a second straight weekly gain.
Zinc, nickel and tin also gained on the LME. Copper fell as Goldman Sachs Group Inc said a "supply storm" is coming and predicted prices would fall to US$4,000 a tonne over 12 months. Prices dropped 0.7 percent to US$4,798, bringing the loss for the week to 2.6 percent.
Copper has lagged behind gains in other raw materials this year, especially zinc and nickel, which benefited from forecasts for global shortages. For copper, there has been solid growth in global mine supply in the first half and that trend is expected to pick up in the coming quarters, Goldman said.
Comments will be moderated. Keep comments relevant to the article. Remarks containing abusive and obscene language, personal attacks of any kind or promotion will be removed and the user banned. Final decision will be at the discretion of the Taipei Times.