Britons lead 'dream life' in the EU's poorest country: Bulgaria
Every year, hordes of Britons move to Spain's Costa del Sol or southern France in search of a sunnier, more relaxed lifestyle. However, several thousand have found their paradise in a most unlikely place — Bulgaria, the poorest member state of the EU.
With its low living cost, the nation of 7 million has become the bloc's best-kept secret for British citizens wanting to retire or reinvent their existence. At least 10,000 are estimated to now live here either part-time or permanently, although the actual figure could be much higher: A majority do not register with local authorities.
Among those to call the ex-communist country home are Tina and Kevin Brassington, two university lecturers who ditched their well-paid jobs in Kent, England, in 2011 and run a small organic farm in the heart of rural Bulgaria.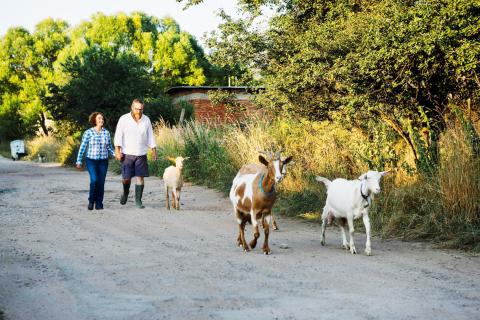 Tina and Kevin Brassington walk after their goats on a street in the village of Alino, 50km south of the Bulgarian capital, Sofia, on July 12.
Photo: AFP
"Fancy a cuppa?" Tina Brassington said, as she opened the green gates to the estate, set on a dusty road in the small village of Alino, 50km south of the capital, Sofia.
Behind the petite brunette, baby goats bounce around a leafy garden drenched in sunshine. Rows of vegetable beds sit amid fruit trees and flower bushes. They also have chickens, geese and pigs.
The couple, both in their 40s, say Bulgaria has allowed them to fulfill their "dream of self-sufficiency."
"It's taken us several years to turn the derelict house and garden into somewhere beautiful where we grow our own food," Kevin Brassington said.
"We've learnt to be happy with less," said Tina Brassington, who at one point worked as a marketing expert for banks in London.
When they are not selling their produce at a farmer's market, they herd village goats, meet neighbors for coffee and improve their Bulgarian.
"This isn't Spain where you can live as an English person in an English community. The adventurous ones come to Bulgaria," Kevin Brassington said.
News of Britain's recent vote to quit the EU proved upsetting even to this jovial pair.
"I'm proud to be British, but I also love living here. I don't think the two are mutually exclusive," Tina Brassington said.
Britain's romance with Bulgaria began in 2004 when Sofia launched a massive tourism campaign in Britain to draw foreign investment.
The Bulgarian entry into the EU single market three years later further eased rules to live and work here.
Brits bought about 60,000 homes between 2004 and 2008, Rumen Draganov of the Institute for Analysis and Assessment in Tourism said.
The influx ebbed off with the financial crisis, but people are still coming, Draganov said, especially "young-spirited" pensioners.
"Surprisingly, a lot don't opt for resort places, but remote, unusual spots. They seek a community feel and starry nights," Draganov said.
Kim Sayer from Norwich was one of the first Brits to settle in the village of Marcha in central Bulgaria.
Many are drawn to the region because of its mountains, lakes and medieval heritage.
"I saw an article on Bulgaria 12 years ago. I always wanted to go abroad and after my divorce I decided to make the move," the 56-year-old trained plumber and construction expert said.
His vast property features several self-built houses and a luxurious swimming pool overlooking a lush valley.
"I couldn't live like this back home," he said with a grin.
In the nearby traditional town of Dryanovo, British accents can be heard on every cafe terrace.
"Ten years ago, we thought Brits were exotic, but now there are so many that you hardly notice them," resident Yanko Stefanov said.
"I know them all around here. They call me Jacob," he laughed.
His British "mates" include retired Belfast musician Stephen Mulhern and his partner, Catherine, who own a plot of land off a dirt track in the village of Turkincha.
They left London three years ago after realizing their pensions would go a lot further in Bulgaria, where big homes can be bought for less than 15,000 euros (US$16,630).
The couple acknowledge life can be tough in winter during power cuts and heavy snow.
"We are not blind to the fact that it's not a rich country, but it doesn't stop us from thinking it's a fabulous place," Catherine Mulhern said.
For all their differences, Brits here have one thing in common: They hope their government will strike a "Brexit" deal with the EU to protect their expat status.
"We want to stay if they let us," said ex-army pilot Keith Davies, who runs an expat services company in the village of Gostilitsa.
"I'll never lose my English identity, but my life is here," he said.
Comments will be moderated. Keep comments relevant to the article. Remarks containing abusive and obscene language, personal attacks of any kind or promotion will be removed and the user banned. Final decision will be at the discretion of the Taipei Times.