Michelin-class food hawkers struggle to cope
A line 100-people long snakes out from a tiny food stall in Singapore's Chinatown, each customer impatiently waiting their turn for a taste of Chan Hon Meng's prized soya sauce-braised chicken.
He has always had loyal customers, but in the days since he was awarded a Michelin star, waves of new gourmands have descended on his stall in such numbers that he is struggling to keep up with demand.
Chan is one of two "hawkers" — so-called because many started out as street peddlers — awarded one star by the culinary bible when it launched its inaugural Singapore guide late last month.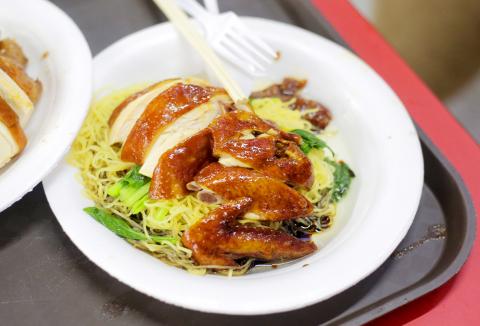 A plate of soya sauce chicken noodles from the Hong Kong Soya Sauce Chicken Rice & Noodle store in Singapore is displayed on July 23.
Photo: EPA
Only one restaurant, French chef Joel Robuchon's eponymous outlet, secured the coveted three-star rating.
"I'd heard of the Michelin guide, but I thought they only gave those out to restaurants," Chan said, while chopping up chicken, which is served over rice or thin yellow noodles topped with his now famous dark soya sauce.
A plate costs just S$2.50 (US$1.85), making it one of the cheapest Michelin-starred dishes in the world.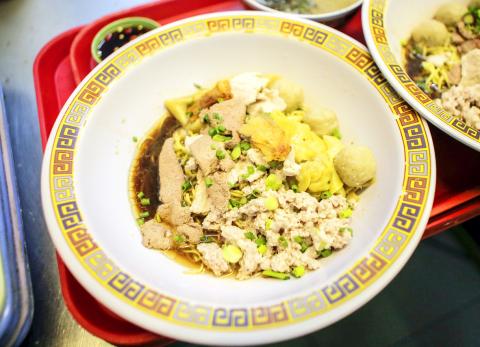 A photo released on July 23 shows a bowl of pork noodles from the Hill Street Tai Hwa Pork Noodle store in Singapore on July 22.
Photo: EPA
"The fact I have this star shows that simple food like ours is worthy of a global award too," Malaysian-born Chan said.
His place, Hong Kong Soya Sauce Chicken Rice & Noodle, offers exactly what it says in the name. Like most hawker stalls, the focus is on delivering signature dishes that customers return for. Chan says he now sells 180 chickens per day, 30 more than his pre-Michelin star average.
"Any more than that and I cannot cope, and I don't want to give people food that is not up to standard," the 51-year-old said.
He works 17-hour days in his miniscule kitchen, where lines of his whole braised birds hang on display. The stall is housed in a food center packed with an array of vendors selling everything from chilli crab to pork intestine. Aging wall fans provide the only respite from Singapore's humidity and the heat from the kitchens, but the line for Chan's chicken grows nonetheless.
Across town in an unassuming food court is Tang Chay Seng's stall, Hill Street Tai Hwa Pork Noodle. Since Michelin awarded it one star, hundreds are turning up daily for a bowl of minced-meat and noodles. Customers now face a wait of up to two hours for a S$5 serving — it was about 30 minutes before.
Tang's father came to Singapore from China's Guangdong Province, where their specialty "Teochew" noodle dish originates. Initially he worked as a butcher's assistant before selling pork noodles in a coffee shop at Hill Street, where his three sons helped out.
"Learning a skill is not easy. We worked very hard all the time and I had no childhood," Tang said.
He took over running the stall in the 1960s, after his father fell ill.
"The importance lies in the noodles. Everything else, there's a recipe you can follow, but for the noodles, it has to be cooked just right, which you can only learn from practice," he said.
Leslie Tay, a doctor who runs a popular blog called "ieatishootipost," described hawker fare as the "soul food" of the nation.
Street food vendors started out in the early 20th century catering to immigrants who came in search of work in what was then a British colony, providing cheap fare that reminded settlers of home.
After Singapore gained independence from Malaysia in 1965, hawkers were regulated for hygiene reasons: Many were itinerant, had no access to running water and emptied their waste directly into open drains.
"So these street food vendors were relocated to hawker centers, which were basic sheltered areas with stalls that hawkers could sell food, had proper sanitation and an area for people to eat," Tay said.
Chan came nearly three decades ago from the Malaysian mining town of Ipoh, where he learned how to make soya sauce-braised chicken from a Cantonese chef. However, like many traditional hawkers, he is finding it hard to find good help despite brisk sales.
"It's not that I don't trust anyone, but I have difficulty hiring people to work in a stall like this," he said.
Long hours and low wages mean few want to take on the work and Singapore has placed restrictions on using foreign workers.
Tang has spent decades building his reputation. Long regarded as a favorite with Singapore's food lovers, his shop has featured in travel guides and culinary blogs. However, he is resigned to the fact the next generation may not have what it takes to make hawker stalls a success.
In 2010 Tang sued and won a case against a nephew who had set up a rival outlet with a similar name, accusing him of trying to capitalize on Hill Street's popularity without putting in all the work.
"My son tried to open a stall, but he couldn't stand for long because he has leg problems," Tang said. "I have feet problems too, from standing more than 18 hours a day."
"It's hard work, but this is all I know," the 70-year-old added.
Comments will be moderated. Keep comments relevant to the article. Remarks containing abusive and obscene language, personal attacks of any kind or promotion will be removed and the user banned. Final decision will be at the discretion of the Taipei Times.