Who is to benefit from 'Pokemon Go' in China?
RISKY BUSINESS: ICBC International Holdings analyst Yu Jianpeng said that augmented reality cannot guarantee success and could represent a risky investment option
The absence of Pokemon Go in China is not deterring some analysts from speculating on which local companies stand to benefit from the hit mobile game and the augmented-reality (AR) experience it has helped make popular.
The base case for Chinese investors is perhaps Hong Kong-listed Lenovo Group Ltd (聯想). On July 18, the computer maker's shares rose the most in more than three months on what analysts said was improving sentiment from Pokemon Go. Lenovo even plans to release a similar game, China's Jiemian news Web site reported the next day.
The game became available for download in Hong Kong yesterday and analysts have suggested a few companies they expect to be buoyed by the frenzy.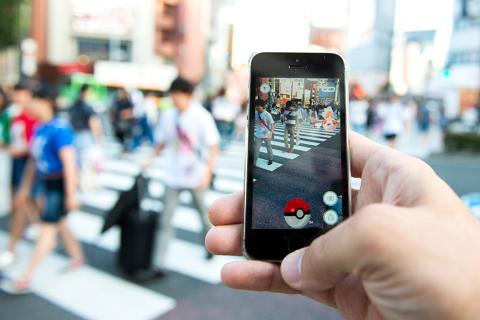 A persons plays Nintendo Co's Pokemon Go augmented-reality game on their smartphone on a street in Tokyo on Sunday.
Photo: Bloomberg
Ningbo GQY Video and Telecom Joint Stock Co Ltd (寧波GQY視訊), which builds wall-sized display systems, is recommended by China International Capital Corp (CICC, 中金公司), Orient Securities Ltd (東方證券) and Zheshang Securities Co Ltd (浙商證券). GQY's shares are up 36 percent since Pokemon Go was introduced on July 6. The stock was halted on July 15 after rising by the daily limit for four consecutive days, with trading resuming on July 21. GQY bought a stake of about 3.6 percent in Meta, an augmented-reality start-up, for US$10 million in February, which is a big investment for a company that recorded a 4.9 million yuan (US$734,005) profit last year.
Meisheng Cultural and Creative Corp Ltd (美盛文化), a maker of anime costumes, is also recommended by CICC, Orient Securities and Zheshang Securities. Meisheng's stock is up 7.5 percent since the game was released. It paid 20 million yuan for a 35 percent stake in an augmented-reality mobile game developer in November last year. Meisheng's profit last year was 126.4 million yuan.
Beijing Toread Outdoor Products Co Ltd (探路者集團), a maker of camping equipment, is also among stocks "closely related with AR technology," CICC's Wei Meng and Pei Yin said. Toread is an investor in a company that makes exercise bikes that use virtual reality technology.
Other CICC picks include Lingnan Landscape Co Ltd (嶺南園林) and Palm Eco-Town Development Co Ltd (棕櫚生態城鎮發展), an urban construction and engineering company. Huawen Media Investment Corp (華聞傳媒投資集團) and Xiamen Anne Corp Ltd (廈門安妮), an internet marketer, are also among possible beneficiaries, CICC said.
Some investors might already be trading the theme in China. Since the game's release, 13 of the 16 stocks recommended by CICC climbed an average 9 percent through Friday last week, while the Shanghai Shenzhen CSI 300 Index rose 0.6 percent.
Those gains might not last, ICBC International Holdings Ltd (工銀國際) analyst Yu Jianpeng (于健鵬) said in a telephone interview.
"Augmented reality cannot guarantee success," Yu said. "It could be risky if their products or services were not well received after large investment."
Pokemon Go was released in Japan on Friday last week and Nintendo Co Ltd shares rose again. Later that day, Nintendo said the financial impact from the game would be limited. The stock yesterday fell 17 percent in Tokyo as of 12:27pm in Hong Kong.
Comments will be moderated. Keep comments relevant to the article. Remarks containing abusive and obscene language, personal attacks of any kind or promotion will be removed and the user banned. Final decision will be at the discretion of the Taipei Times.