Perobot launches Softbank's Pepper
EARLY ADOPTERS: Initial preorders by First Commercial Bank, Taishin International Bank, Cathay Life Insurance Co and Carrefour Taiwan have reached more than 100 units
Hon Hai Precision Industry Co (鴻海精密) subsidiary Perobot Co Ltd (沛博科技) yesterday launched Softbank Corp's Pepper, marking the humanoid robot's official entry into the Taiwanese commercial market.
The launch was also the first time Pepper has been made available outside of Japan, after the robot was launched on the Japanese market in June last year.
Asia Pacific Telecom Co (亞太電信), a subsidiary of Hon Hai, has started taking preorders from businesses, Asia Pacific Telecom chairman Lu Fang-ming (呂芳銘) said.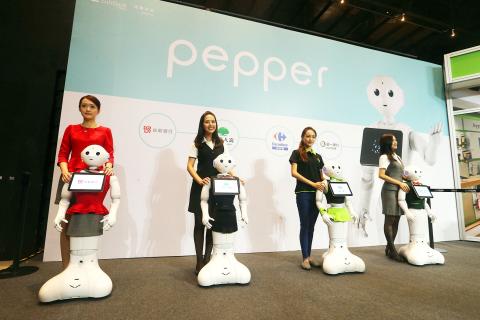 Hon Hai Precision Industry Co and Japan's Softbank Corp hold a joint launch event for the Japanese company's Pepper humanoid robot in Taipei yesterday.
Photo: CNA
"We are now taking preorders and plan to begin shipping the products to enterprises in late September," Lu, who doubles as a vice president at Hon Hai, told a news conference.
Pepper is available to business clients through a 24-month rental contract, in which they would pay a NT$26,888 monthly rental fee, Lu said.
By contrast, Japanese enterprise clients pay a ¥55,000 (US$517.42) monthly fee through 36-month rental contracts.
Services included in the monthly rental fee include customized speech for Pepper, technical support, software upgrades and post-sales service, Lu said, adding that Perobot would replace a broken unit within 24 hours to ensure Pepper's operational uptime.
The robot can speak Chinese, English and Japanese, Lu said, adding that Hon Hai has not ruled out the adding the ability to speak Hoklo (commonly known as Taiwanese).
Initial preorders by First Commercial Bank (第一銀行), Taishin International Bank (台新銀行), Cathay Life Insurance Co (國泰人壽) and hypermarket chain operator Carrefour Taiwan (家樂福) have already reached more than 100 units, according to Perobot, the local sales distributor and after-sales service provider.
Lu said he hopes monthly sales of Pepper in Taiwan will reach 60 units by the first half of next year, which is lower than the Japanese market's 1,000 units per month.
Perobot general manager Vincent Lin (林義勛) said the company initially plans to focus on expanding Pepper's reach in the Taiwanese commercial market.
"Compared with consumers in Japan, Taiwanese are relatively unfamiliar with the capabilities of service robots," Lin said, adding that the company would rather wait for Taiwanese to become used to the robot's presence and learn how to use it, instead of immediately introducing it for household use.
Lin said that Perobot welcomes the introduction of Asustek Computer Inc's (華碩) service robot Zenbo to the market, as more service robots would help to accelerate the expansion of the industry.
Comments will be moderated. Keep comments relevant to the article. Remarks containing abusive and obscene language, personal attacks of any kind or promotion will be removed and the user banned. Final decision will be at the discretion of the Taipei Times.