Gawker puts itself up for sale, files for bankruptcy
Gawker Media Group is filing for Chapter 11 bankruptcy protection and putting itself up for sale, strained by a jury's verdict that it must pay US$140 million to pro wrestler Hulk Hogan in an invasion-of-privacy lawsuit.
The filing by the 14-year-old Web site follows the revelation last month that Silicon Valley billionaire Peter Thiel bankrolled Hogan's lawsuit as what he called a "deterrent" to Gawker's no-holds-barred and sometimes gonzo style of journalism.
Thiel's secret role sparked anxiety over the possibility that more wealthy individuals might cow publications by covertly funding lawsuits against them.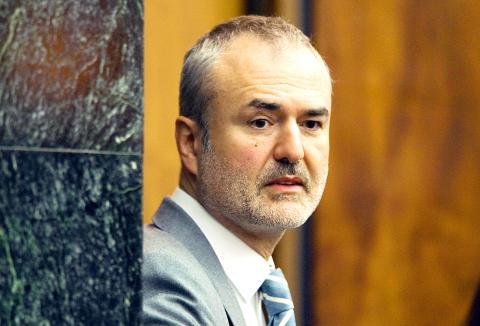 Gawker Media founder Nick Denton arrives in a courtroom in St. Petersburg, Florida on March 16.
Photo: AP
Gawker said it plans to sell itself to publishing company Ziff Davis, although other bidders could emerge during the bankruptcy court auction. The sale will help it fund its appeal against the Hogan judgement in a Florida state court.
Gawker founder Nick Denton said in a statement that Ziff Davis' e-commerce, licensing and video assets would be a good fit with Gawker's Web sites, which include tech site Gizmodo, sports site Deadpsin, video-game site Kotaku, celebrity and women-focused site Jezebel, news and gossip site Gawker, car-site Jalopnik and self-help site Lifehacker.
"We have been forced by this litigation to give up our long-standing independence," Denton said in the statement. "With stronger backing and disentangled from litigation, [Gawker writers] can perform their vital work on more platforms and in different forms."
The move also allows Gawker's Web sites to keep operating normally, the company said.
Gawker filed for Chapter 11 bankruptcy protection about three months after Hogan won a lawsuit against the online gossip and news publisher.
The New York publisher said in the filing that it has as much as US$500 million in debt and up to US$100 million in assets.
Media analyst Dean Starkman, a fellow at the Center for Media, Data and Society at the Central European University in Budapest, said the bankruptcy was an "ominous development" for journalism.
"You don't want billionaires to be any final arbiter of press fairness — that's just not democracy," he said. "While many of us disagreed with Gawker's news judgement in this case, and many are ambivalent about Gawker itself, the issue here was a billionaire's use and potential abuse of the legal process to drain a journalism outlet's resources."
Comments will be moderated. Keep comments relevant to the article. Remarks containing abusive and obscene language, personal attacks of any kind or promotion will be removed and the user banned. Final decision will be at the discretion of the Taipei Times.