Brent creeps toward US$50 as prices hit high for year
TEMPORARY DISRUPTIONS: The market is excited by supply cuts due to by production disruptions in Canada and Nigeria, but analysts say the market remains oversupplied
Brent crude pushed toward US$50 a barrel in Asia yesterday, boosted by supply disruptions from the escalating Canadian wildfires and armed attacks against oil facilities in Nigeria.
Wildfires burning around the oil sands hub of Fort McMurray in Alberta, Canada, have been rapidly moving north, forcing firefighters to shift their efforts to protecting existing oil facilities.
In Nigeria, Africa's biggest crude producer, troops have made several arrests following the attacks on an offshore oil facility as the government on Monday moved to avert a labor strike over gas prices.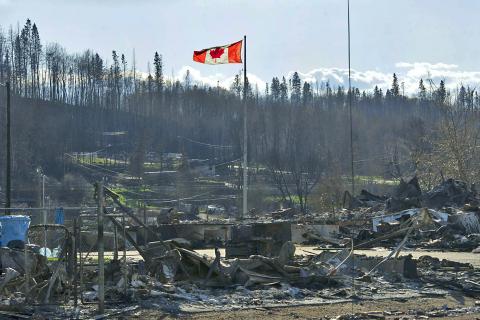 A Canadian national flag flies over damage caused by a wildfire that swept through several neighborhoods in Fort McMurray, Alberta, on Saturday in a picture released by the Alberta government on Monday.
Photo: EPA
"People are looking for any signs possible to confirm that supply is decreasing so any news of unplanned outages gets the market particularly excited," BMI Research oil and gas analyst Peter Lee said.
"A break above US$50 in the next few days is very possible. In the second half of the year, oil is likely to hold between US$45 to US$50 a barrel," he said.
A report by US banking giant Goldman Sachs Group Inc has predicted a short-term supply deficit due to production outages, pointing to disruptions in Nigeria and Venezuela, which is deep in political crisis.
At about 7am GMT, US benchmark West Texas Intermediate (WTI) for June delivery rose US$0.62, or 1.3 percent, to US$48.34 a barrel.
Brent North Sea oil for July delivery climbed US$0.41, or 0.84 percent to US$49.38.
Prices have rebounded strongly since plunging to near 13-year lows below US$30 in February, but are still well below peaks of more than US$100 a barrel reached in June 2014.
The last time Brent touched US$50 was in early November last year.
However, some analysts said the disruptions are temporary and said that the market remains oversupplied.
"Admittedly, these disruptions are large enough that the rebalancing in the market expected in the second half of the year may already be happening," research firm Capital Economics said. "However, prices could quickly drop back again once at least some of this supply comes back on stream. In the meantime, global stocks remain ample."
In related news, Algeria will supply oil and other energy products to Jordan for the first time under a memorandum of understanding signed on Monday, as the OPEC member seeks to diversify sales after years of stagnating crude production.
Algeria's state-run Sonatrach Group will start shipping liquefied natural gas and liquefied petroleum gas to Jordan in September, followed by crude oil, Algerian Minister of Energy Salah Khebri said in an interview in Amman on Monday.
Sonatrach and National Electric Power Co of Jordan should reach a final agreement in the next few weeks, he said, without specifying shipment volumes.
Sonatrach will also explore for oil and gas in Jordan.
Algeria, the ninth-biggest member of OPEC, plans to raise crude output by 5 percent this year and offer energy-exploration rights to foreign companies, Salah Mekmouche, Sonatrach vice president of exploration and production, said in December last year.
Additional reporting by Bloomberg
Comments will be moderated. Keep comments relevant to the article. Remarks containing abusive and obscene language, personal attacks of any kind or promotion will be removed and the user banned. Final decision will be at the discretion of the Taipei Times.