Incoming minister laments impact of OBI Pharma scandal
Minister of economic affairs-
designate Lee Chih-kung (李世光) yesterday compared the impact of the OBI Pharma Inc (台灣浩鼎) controversy on the nation's biotechnology industry to a "tsunami."
OBI Pharma "definitely has an influence" on the biotech industry, Lee said during an interview with radio host Clara Chou (周玉蔻).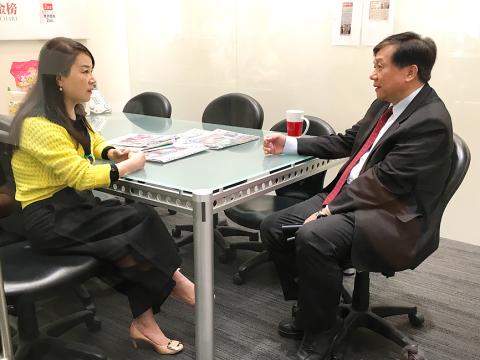 Incoming minister of economic affairs C.K. Lee, right, speaks to radio host Clara Chou in an interview yesterday in Taipei.
Photo: Huang Pei-chun, Taipei Times
"The impact looks like the beginning of a tsunami," he added.
Lee said it was hard to say how long it would take for the industry to recover from the scandal, sparked by allegations of insider trading and conflict of interest at OBI Pharma, adding that it would depend on public sentiment.
Most developed countries value the biotech industry and understand that it requires long-term investment, he said.
"I am not trying to speak for OBI Pharma. The insider trading and conflict of interest allegations are indeed significant issues, but I think the public should seek the truth and look at the matter rationally," Lee told reporters after the interview.
Lee declined to comment on Academia Sinica President Wong Chi-huey's (翁啟惠) role in the case, saying that Wong should explain the matter to the public.
Wong is an internationally renowned academic, Lee said, adding that he does not think Wong's involvement in the controversy is a "shame."
However, the scandal and its effect on the public have affected the reputation of Academia Sinica, he said.
Local media reports have also revealed that Lee's younger brother, Howard Lee (李世仁), is an independent board member of OBI Pharma and a member of Academia Sinica's research and development results management committee — sparking a new round of speculation about conflict of interest.
C.K. Lee said that his brother's situation cannot be classified as a conflict of interest, because the committee does not deal with individual companies.
Moreover, his brother does not receive remuneration as committee member, only a transportation allowance of NT$1,000 to NT$2,000 each time, C.K. Lee said.
However, he has asked his brother to consider resigning from OBI Pharma and the committee given his ministry post.
C.K. Lee also confirmed that he has dual citizenship, but said he had submitted an application to the American Institute in Taiwan (AIT) to give up his US citizenship, with an interview scheduled next week.
C.K. Lee, who is to take up his new post on May 20, is to visit Minister of Economic Affairs John Deng (鄧振中) on Monday to talk about the handover, the ministry said.
The 56-year-old said his biggest challenges in his new post would be finding ways to boost economic development, increase wages for young people and attract international talent to Taiwan.
His first task when he assumes office will be to promote development of the green energy sector in Taiwan in the hope of building a demand-oriented industry as soon as possible, Lee said.
He said he will also push for reform of the industrial sector, which has complained of water, electricity, land, and labor shortages.
Lee said he was made aware of the problems during his tour on April 28 of various industrial and commercial enterprises, which also mentioned other problems such as limited access to funding and consultancy services.
Additional reporting by CNA
Comments will be moderated. Keep comments relevant to the article. Remarks containing abusive and obscene language, personal attacks of any kind or promotion will be removed and the user banned. Final decision will be at the discretion of the Taipei Times.