Solar market moves to Japan's rooftops, developing nations
A lack of large open spaces and the end of tariffs introduced after the Fukushima nuclear disaster will see a decline in the No. 2 market's megaprojects, as China, Brazil, Egypt and India pick up the slack
Japan's home rooftops are emerging as the next hot spot in what for years has been one of the biggest solar markets in the world, marking a move beyond the utility-scale projects in rich industrial nations that have fueled most of the industry's growth.
Because of the change, Japan may not remain the No. 2 solar market behind China beyond next year, according to Bloomberg New Energy Finance forecasts.
Developing nations, such as China, Brazil, Egypt and India, will pick up the slack as photovoltaics move beyond being a toy of rich industrial nations into a competitive power source for places where it is costly to import fossil fuels.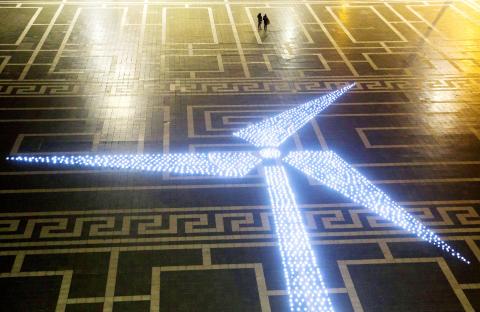 An image of a windmill made up of solar-powered lights is displayed during a Greenpeace demonstration to mark the upcoming five-year anniversary of the Fukushima Dai-ichi nuclear power plant disaster at Heroes Square in downtown Budapest, Hungary, on March 9.
Photo: EPA
The government in Tokyo is encouraging more energy-efficient buildings that combine solar panels with some form of storage and other devices like fuel cells. That change also underscores what happens when authorities curtail incentives that have spawned sprawling projects, each covering hectares of countryside.
"The market will be shifting from mega-solar to rooftops" because of the lack of large, open spaces, said Izumi Kaizuka, head of the research division at RTS Corp, a solar research company in Tokyo. "As the tariff gets further reduced, the market will focus more on how to use solar power on site."
FUKUSHIMA EFFECT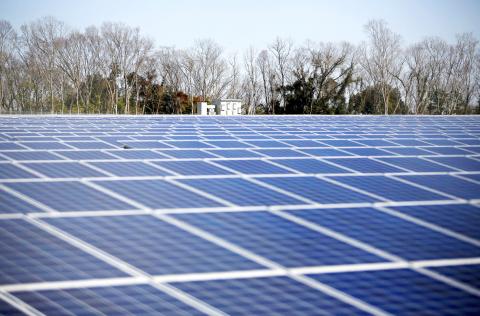 Solar panels soak up rays at a solar power facility in Nakai, Japan, on March 1.
Photo: Reuters
Shocked by the atomic meltdown in Fukushima after the earthquake in 2011, Japan lavished some of the most generous incentives on cleaner alternatives.
Solar capacity surged sevenfold to 37 gigawatts in the four years ending last year, London-based industry researcher BNEF said.
Buoyed by the incentives, growth is set to peak with 14 gigawatts of new installations forecast this year before beginning to taper off as enticements are cut back, BNEF said.
By comparison, China's growth in photovoltaics is expected to remain steady, leaving it the biggest solar market, with 19 gigawatts of additions this year, 21 gigawatts next year and 23.5 gigawatts the following year, BNEF said.
By 2018, Japan may not even rank among the top five markets worldwide, according to the forecaster, which says its estimates may be too pessimistic.
Beginning next month, solar farms in Japan will become much less attractive to develop. Tariffs paid for power from the projects will drop to as much as 40 percent below where they were four years ago after a government decision designed to pass the impact of lower system costs through to energy consumers.
Solar installations may fall 19 percent in 2017 compared with the previous year, then another 85 percent in 2018 to just 1.7 gigawatts during a year when no utility-scale projects are expected to come online, according to BNEF data.
PAST PEAK?
Kaizuka said Japan's market probably peaked last year with 11 gigawatts of added capacity and RTS is projecting a more gradual decline.
Still, industry executives say they are hopeful an abrupt drop-off can be avoided.
For the utility-scale projects that spearheaded the recent expansion, the peak may come in the three years through March next year, according to Yuichiro Kawabe, who heads the new energy promotion department of Shinsei Bank Ltd, which has been providing project finance loans for solar.
The driver will be a rule change that is expected to prompt developers to complete their projects as quickly as possible, he said.
Developers who have already won project approval, but have not secured grid access before April next year will need to get a second approval from the trade ministry.
Japan has authorized many more solar projects than developers have been able to complete to date. Of the 80 gigawatts approved since July 2012, only 24 gigawatts have begun generating power. The government intends to get 7 percent of Japan's electricity from photovoltaics by 2030, which will require 64 gigawatts of capacity, according to trade ministry figures released in July last year when the government set out its long-term ambitions for fuel use.
"The market will gradually become stable" at about 4.5 gigawatts a year in about 2020, Kaizuka said.
Residential panels will account for about a half of that.
The system where feed-in tariffs are offered to any developer whose projects qualify has led to quick booms in installations from Germany to Spain, along with other markets where it has been tried. Panelmakers in Japan such as Kyocera Corp and Sharp Corp saw a dramatic pickup in their solar sales after the system started there.
"A few years ago, we were able to sell more and more panels," said Ichiro Ikeda, who is in charge of solar energy marketing at Kyocera, a Kyoto-based maker of panels and electronic equipment. "There were even times we didn't have enough supply."
However, times are changing. Major panel makers are branching out, developing and offering such products as fuel cells and storage batteries. Sharp, for example, is now focusing its energy business on "energy solutions" and has withdrawn from solar panel production outside Japan.
Comments will be moderated. Keep comments relevant to the article. Remarks containing abusive and obscene language, personal attacks of any kind or promotion will be removed and the user banned. Final decision will be at the discretion of the Taipei Times.