Credit card spending keeps rising
With more and more local consumers keen to use credit cards, spending through the system in Taiwan hit a record high last year, the Financial Supervisory Commission (FSC) said on Friday.
Citing statistics, the commission said that consumers in Taiwan spent a total of NT$2.2 trillion (US$65.67 billion) using credit cards last year, up 7.9 percent from a year earlier.
It was the sixth consecutive year in which Taiwanese credit card purchases hit a record high, the commission said. However, the year-on-year growth in credit card spending for last year was lower than in the previous two years, when the annual increase surpassed 8 percent, the commission said.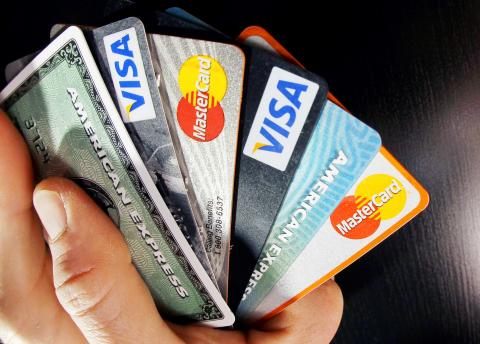 Consumer credit cards are posed in North Andover, Massachusetts, on March 5, 2012.
Photo: AP
In December last year, consumers in Taiwan spent NT$204.3 billion through credit cards, the third-highest after the NT$242.5 billion seen in June last year and the NT$206.3 billion recorded in June 2014, the commission said.
The commission said that the spike reflected a buying spree in the month, while local consumers became more willing to pay for their insurance policies via credit card, giving another boost to December spending by NT$19.4 billion from November.
The commission said that although the local economy has shown signs of slowing, Taiwanese spending via credit card bucked the trend and continued to increase last year.
As of December, the number of valid credit cards issued by 36 authorized banks totaled 23.36 million in Taiwan, while the number of cards in circulation had hit 38.52 million, the commission said.
Meanwhile, electronic payments rose 20.69 percent last year from a year earlier to NT$64.6 billion, at a time when many local consumers tended to make their small-amount payments through so-called third-party payment instruments such as EasyCard and other registered prepaid cards, the commission said.
EasyCard (悠遊卡) is the largest third-party payment tool in Taiwan. As of the end of December, the number of EasyCards circulating in Taiwan totaled 47.27 million, accounting for almost 70 percent of the 68.89 million third-party payment instruments in the country, the commission said.
The statistics show that each person in Taiwan owned about two EasyCards on average as of the end of last year.
Other third-party payment instruments in Taiwan include iPass (一卡通), iCash (愛金卡) and HappyCash (遠鑫卡).
Meanwhile, more than half of Taiwanese say they feel money is tight and they may not have enough funds before the Lunar New Year holiday, according to a survey conducted recently by online job bank yes123.
The survey also found that more than 60 percent of respondents feel that they need to take on extra jobs to gain extra money.
The survey conducted by yes123 showed that people mainly rely on part-time jobs for extra cash (62 percent), followed by borrowing from relatives (39.2 percent), borrowing from colleagues (29.5 percent), credit loans from banks (27.1 percent) and salary advances from companies (21.7 percent).
The questionnaires were asked between Dec. 22 and Jan. 3. A total of 1,292 effective samples were collected with a margin of error of 2.73 percentage points.
Comments will be moderated. Keep comments relevant to the article. Remarks containing abusive and obscene language, personal attacks of any kind or promotion will be removed and the user banned. Final decision will be at the discretion of the Taipei Times.