Deutsche Bank to see Q4 losses due to legal costs
Deutsche Bank AG, Germany's biggest lender, expects to post a 2.1 billion euro (US$2.3 billion) loss for the fourth quarter after setting aside more money for legal matters and taking a restructuring charge. The stock is at the lowest since 2009.
About 1.2 billion euros were earmarked for litigation and 800 million euros for restructuring and severance costs, mainly in the private and business clients division, the Frankfurt-based firm said on Wednesday in a statement.
"Challenging market conditions" also hurt earnings at the investment bank during the quarter, cutting group revenue to about 6.6 billion euros, it said.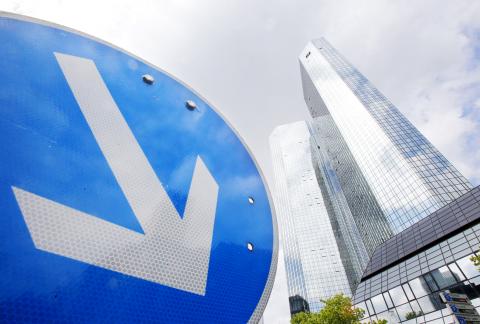 The headquarters of Deutsche Bank is seen in Frankfurt, Germany, on June 9, last year.
Photo: AP
The bank had reported 7.8 billion euros of net revenue a year earlier.
Co-chief executive officer John Cryan has been seeking ways to restore investor confidence and earnings growth battered by costs tied to past misconduct. Under his overhaul, Deutsche Bank plans to shrink headcount by 26,000, or a quarter of the workforce, by 2018.
"A real fresh start means even lower stated net profits for some time," Daniele Brupbacher, an analyst at UBS Group AG in Zurich who has a neutral rating on the shares, wrote in a note yesterday.
Conditions for the company would probably "remain challenging" in the first quarter, he wrote.
The stock fell as much as 6 percent and was down 3.5 percent at 17.10 euros as of 9:16am in Frankfurt, the biggest decline in the 46-member Stoxx Europe 600 Banks Index. Deutsche Bank's 24 percent decline this year means it is the worst-valued global bank.
Full-year revenue will be about 33.5 billion euros, leading to a net loss of 6.7 billion euros for the period, Deutsche Bank said.
Those results include previously disclosed impairments taken in the third quarter, full-year litigation provisions of about 5.2 billion euros and restructuring and severance charges of 1 billion euros, the lender said.
"This will be the bank's first full-year loss since 2008 and it is sobering," Cryan said in a note to employees posted on the bank's Web site. "We expect the next two years to consist of hard work, burdened by the costs of restructuring the bank and making much-needed investments. By taking these steps, however, we have the potential to transform ourselves from a restructuring story into a strong, efficient, and well-run institution."
Deutsche Bank has racked up more expenses for litigation and fines since the start of 2008 than any other financial firm in Europe, according to data compiled by Bloomberg. Its legal costs in the fourth quarter also exceeded the 750 million euro estimate of Piers Brown, a Macquarie Group Ltd analyst.
Deutsche Bank has been contending with several regulatory probes into alleged misconduct. The US Department of Justice and the UK Financial Conduct Authority have been looking into so-called "mirror trades" originating from its Moscow office. The US government also has been examining what role the bank played in the industry's manipulation of currency exchange rates and precious metals trading. And Deutsche Bank has said it is cooperating with a US probe of mortgage-backed securities.
"We are expecting this year to be pretty messy for them in terms of restructuring charges," said Shailesh Raikundlia, a Haitong Securities analyst based in the UK.
While expectations for fourth-quarter results already were low, the size of the litigation cost was still a surprise, Rakundlia said.
"My forecast was for them to have only a couple hundred million of litigation costs," he said.
The bank said its common equity Tier 1 ratio, a key measure of financial strength, fell to about 11 percent at the end of last month from 11.5 percent three months earlier. A change in the regulatory capital treatment of the bank's Abbey Life business cut the ratio by about 10 basis points.
Comments will be moderated. Keep comments relevant to the article. Remarks containing abusive and obscene language, personal attacks of any kind or promotion will be removed and the user banned. Final decision will be at the discretion of the Taipei Times.