China factory output rose as activity data surprise
China's activity data was stronger than expected last month, with factory output growth picking up to a five-month high, signaling that a flurry of stimulus measures from Beijing might have put a floor under a fragile economy.
However, analysts believe more policy steps are needed to weather nagging headwinds from a cooling property market, risks from high domestic debt levels and weak global demand as financial markets brace for interest rate rises by the US Federal Reserve.
"Real interest rates are still high due to falling producer prices," China Center for International Economic Exchanges (CCIEE, 中國國際經濟交流中心) senior economist Wang Jun (王軍) said. "It's still necessary to cut interest rates to support economic growth and combat deflation."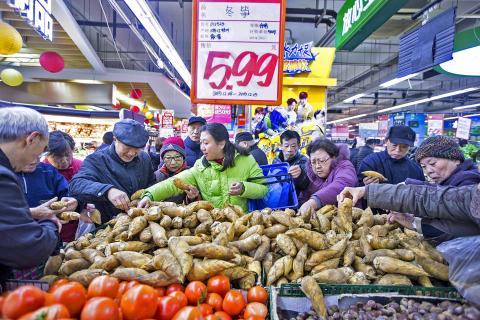 Customers yesterday crowd to buy bamboo shoots at a supermarket in Hangzhou, Zhejiang Province, China.
Photo: Reuters
Factory output grew an annual 6.2 percent last month, data from China's National Bureau of Statistics showed, quickening from October's 5.6 percent and beating expectations of 5.6 percent.
Growth in China's fixed-asset investment, one of the main drivers of the nation's economy, rose 10.2 percent in the first 11 months, unchanged from the gain in the January to October period, and higher than an expected 10.1 percent rise.
Retail sales grew an annual 11.2 percent last month — the strongest expansion this year — compared with 11 percent in October. Analysts had forecast 11.1 percent growth for last month.
"While a low base could be the factor driving the headline growth, we still have to acknowledge that China's data are illustrating signs of stabilization, albeit at a low level," Commerzbank AG Singapore-based economist Zhou Hao (周浩) said.
The data came after weak trade and inflation readings earlier in the week, which underscored persistent slack in the economy.
The world's second-biggest economy has been hit by weak demand at home and abroad, factory overcapacity and challenges posed by its transition to a consumption-led growth model from one reliant on investments.
A cooling property market has weighed heavily on China's economy over the past year. Home sales and prices have increased in bigger cities over recent months, helped by a barrage of government measures.
Data issued yesterday by the statistics bureau showed property investment grew 1.3 percent in the first 11 months of the year from a year earlier, slowing from a 2 percent rise in the January to October period and representing its weakest pace since early 2009.
With the Fed poised to raise interest rates for the first time in almost a decade at next week's review, the risk of intensifying capital outflows has added to Beijing's policy challenge. With its trade sector ailing, there are also signs China is ramping up efforts to send more excess production abroad with tax cuts for the export sector.
Over the past year Chinese authorities have launched the most aggressive policy stimulus since the 2008 global financial crisis, including cutting interest rates six times since late last year and lowering bank reserve requirements.
They have also taken other steps, including an announcement on Friday to lock in more investments.
Comments will be moderated. Keep comments relevant to the article. Remarks containing abusive and obscene language, personal attacks of any kind or promotion will be removed and the user banned. Final decision will be at the discretion of the Taipei Times.