Tesla's bullish production outlook drives stock up despite record quarterly losses
Tesla Motors Inc on Tuesday promised to speed up production of its electric cars after a strong rollout of its Model X SUV, lifting its stock by more than 9 percent even as it posted its biggest loss in 10 quarters.
Orders are accelerating for both the luxury crossover Model X and the three-year-old Model S sedan, the company said. It expects to ship 17,000 to 19,000 vehicles in the current quarter, up from 11,603 in the third quarter.
"We don't see any fundamental obstacle to achieving the production rate of several hundred [vehicles] per week sometime next month," Tesla CEO Elon Musk said.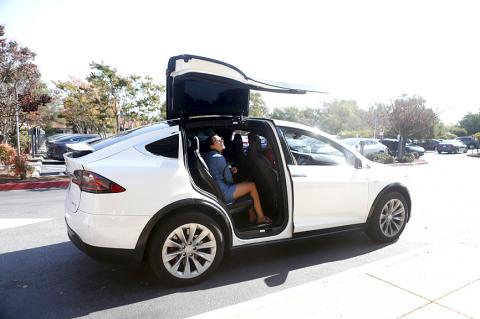 A Tesla Model X picks up passengers during a Tesla event in Palo Alto, California, on Oct. 14.
Photo: Reuters
Investors were relieved that orders for Model X were not cutting into those for the S, said analyst Ivan Feinseth, chief investment officer of Tigress Financial Partners.
"The X is selling well. It's not a cannibalizing car," he said. "This year, the stock still has a cult following, people who love the man and the cars and the company."
The stock rose to US$227.40 in extended trading, after ending 2.5 percent lower at US$208.35. As of the close, it was down 26 percent from a 12-month peak of US$282.26 on July 20.
Tesla said that economies of scale, lower material costs and other factors would help it improve gross margins on the S and X models to more than 30 percent within 18 months.
However, Tesla lowered the range of vehicles it expected to deliver this year to 50,000 to 52,000, from the 50,000 to 55,000 it projected last quarter.
Tesla started delivering the Model X Signature series, a premium version of the SUV, late in September. The Model 3, a mass-market vehicle expected to be priced at about US$35,000, is due to be unveiled in March, but may take about two years to be in production, the company said.
Tesla will tweak its trial autopilot feature in the wake of online videos showing drivers doing things like reading a newspaper while using the system.
"I do want to emphasize we discourage the crazy videos on YouTube," Musk told analysts on a conference call.
"We will be putting some additional constraints on when autopilot can be activated to minimize the possibility of people doing crazy things with that," he said.
Tesla's net loss widened to US$229.9 million, or US$1.78 per share, in the quarter ended Sept. 30, from US$74.7 million, or US$0.60 per share, a year earlier. Revenue rose 10 percent to US$936.8 million.
Capital expenditures should be lower next year after this year's intense spending to develop the Model X and build Tesla's sprawling Gigafactory battery plant in Nevada, the company said.
However, the company plans to invest about US$500 million in the factory and other manufacturing activities this quarter, up from last quarter's US$394 million.
Comments will be moderated. Keep comments relevant to the article. Remarks containing abusive and obscene language, personal attacks of any kind or promotion will be removed and the user banned. Final decision will be at the discretion of the Taipei Times.