TAIEX advances 1.65% on Ma-Xi meeting
RAPPROCHEMENT: While it is not clear what the meeting would accomplish, investors viewed it as a positive for cross-strait ties, stock market analysts said
The TAIEX yesterday rallied 1.65 percent to 8,857.02 points as investors responded positively to the meeting on Saturday between President Ma Ying-jeou (馬英九) and Chinese President Xi Jinping (習近平) in Singapore.
The meeting, the first between incumbent leaders on both sides of the Taiwan Strait since 1949, might not achieve substantial policy changes given its informal agenda, but might underscore a friendly cross-strait relationship, analysts said.
"Though it is not clear what the meeting would accomplish, the market greeted it with a positive attitude amid expectations that the cross-strait rapprochement might continue" after the presidential election, Marbo Securities Consultant Co (萬寶證券投顧) analyst Winson Wang (王榮旭) said by telephone.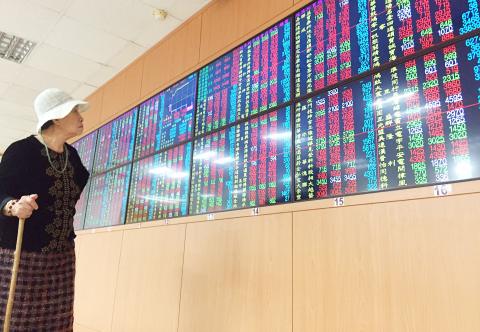 A woman looks at stock monitor screens in Taipei yesterday.
Photo: CNA
All stock categories gained, led by semiconductors, which advanced 3.66 percent, and electronics, which picked up 2.06 percent, Taiwan Stock Exchange data showed.
Turnover soared to NT$127.21 billion (US$32.89 billion), compared with NT$96.7 billion one day earlier, as foreign investors' net position increased by NT$21.73 billion, while mutual funds and proprietary traders added NT$1.04 billion and NT$86.07 million respectively, Taiwan Stock Exchange data showed.
The upcoming meeting deepened rumors of cooperation between technology firms on both sides of the Taiwan Strait, sending shares of Winstek Semiconductor Co (台星科) to close up by the daily limit at NT$29.50, Wang said.
China's Jiangsu Changjiang Electronics Technology Co (江蘇長電) has voiced an interest in the Hsinchu-based Winstek, a chip tester.
MediaTek Inc (聯發科), the world's No. 2 handset chipmaker, gained 9.6 percent to close at NT$302.50, two days after China's Tsinghua Unigroup Ltd (清華紫光) expressed its intention to buy a significant stake in the company in a bid to develop a comprehensive chip supply chain in China.
Masterlink Securities Investment Advisory Corp (元富投顧) president Liu Kun-hsi (劉坤錫) said investors welcomed alliances between technology firms from both sides of the Strait to help them gain competitiveness and market shares on the world stage.
"It is better to make partners than rivals when doing business," Liu said by telephone.
Taiwanese firms have better chances of growing profit and scale by teaming up with their Chinese peers than fighting single-handedly in an ever-changing technology realm, Liu said.
Singapore-based Barclays PLC economist Leong Wai Ho (梁偉豪) said the Ma-Xi meeting is important, as some in the market are nervous about the future of Taiwan-China relations if the Chinese Nationalist Party (KMT) loses power.
"Some of the gains will be knee-jerk reactions, but there is a lot of Taiwanese businesses on the mainland. Travel and tourism, as well as airlines, hotels, retail and insurance can all benefit," Leong told Bloomberg.
The local bourse is likely to consolidate with a positive bias depending on the Wall Street's showing among other things, analysts said.
The TAIEX might benefit from plans to scrap a capital gains tax and hit the 9,000-mark later this week in the absence of bad news from the US and China, Wang said.
Liu expects technical resistance at 8,940 level, as fund managers move with caution.
Comments will be moderated. Keep comments relevant to the article. Remarks containing abusive and obscene language, personal attacks of any kind or promotion will be removed and the user banned. Final decision will be at the discretion of the Taipei Times.