Macau opens 'Hollywood' casino as slowdown bites
The world-beating gambling hub of Macau was to get a taste of Hollywood glamor as its newest casino resort made its debut yesterday with a glitzy grand opening that masks turmoil behind the scenes.
Pop diva Mariah Carey, film stars Leonardo DiCaprio and Robert De Niro, and director Martin Scorsese were among celebrities enlisted to help launch Melco Crown Entertainment Ltd's US$3.2 billion Studio City project.
The movie-themed resort features a Batman flight simulator ride, a figure-eight Ferris wheel and art deco architecture evoking Hollywood's early days.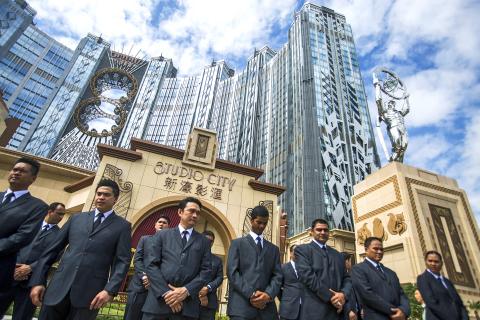 Studio City casino resort employees stand outside the Melco Crown Entertainment Ltd development in Macau yesterday.
Photo: Bloomberg
It is part of a wave of big-budget projects to open over the next two years. They were conceived at a time when a seemingly endless wave of money from wealthy mainland Chinese gamblers was flooding into the region, turning it into the world's biggest gambling market.
Now, Macau finds the odds have quickly turned against it.
Mainland Chinese high rollers rise are staying away amid a persistent economic slowdown and Chinese President Xi Jinping's (習近平) continuing crackdown on corruption, both of which are crimping lavish spending. The downturn has cut into profits at US casino operators such as Las Vegas Sands Corp and Wynn Resorts Ltd, which have multibillion-dollar projects in the pipeline.
"With the anticorruption campaign and the political sentiment, a lot of wealthy people feel going to Macau is very risky. They don't want to be seen on the radar screen," said Tony Tong, founder of Pacific Financial Services, a consulting firm that advises Asian casinos and junket companies.
Macau, an hour by ferry from Hong Kong, is the only place in China where casinos are legal. It has about three dozen casinos that rake in about seven times more revenue than the Las Vegas Strip.
Tong said wealthy mainland Chinese high rollers feel they have been to Macau "too many times" and are now eyeing other emerging Asian gambling destinations such as Vietnam, Cambodia, the Philippines, South Korea and Vladivostok in Russia's far east.
Junkets, the often shadowy middlemen who have helped fuel Macau's spectacular casino growth by acting as an informal banking channel, are feeling the pain. The companies lend gamblers money in VIP rooms and collect debts when they return home, allowing high-rollers to get around restrictions on how much money can be taken outside mainland China.
However, the system is collapsing as Beijing tightens up on money laundering and capital flight.
One junket operator, Neptune Group Ltd, which reported an annual loss of more than US$100 million, said it was thinking of closing more VIP rooms and moving into money lending or other businesses because of the prospect of increased scrutiny.
China's economy "will no longer be the same dominant force to keep high-roller clients in abundant supply" for Macau's casinos, the company said in its annual report.
Adding to the industry's troubles, another junket company, Dore Entertainment, reported to police last month that an employee allegedly defrauded at least US$12.9 million from investors, who have held daily protests.
Casino floors have been noticeably quieter this year in Macau, where gambling revenues have fallen for an unprecedented 16 months straight.
Both Sands and Wynn said their most recent quarterly profit dropped sharply, burdened by their Macau businesses.
Wynn said VIP players were wagering half the amount they did a year earlier.
Wynn Resorts CEO Steve Wynn also lashed out at the Macau Government's policy of reining in rampant casino growth by capping the annual increase in gambling table numbers by 3 percent.
Wynn's exasperation was on behalf of Melco, which said earlier this year it was hoping for at least 400 tables to avoid defaulting on its US$1.4 billion loan.
After it was granted only 250 last week, the Hong Kong-Australian joint venture said it would be forced to renegotiate the loan terms.
Macau's upcoming resorts will emphasize entertainment and shopping over gambling as casino operators bow to authorities' desire to shed the city's image as a sleazy, vice-ridden gambling haven to become a family-friendly global tourist destination.
However, Wynn said that transition is threatened if casinos cannot accommodate enough gamblers to fund it.
"The table cap is the single most counterintuitive and irrational decision that was ever made," Wynn told analysts on a conference call. "The reason that these extraordinary non-gaming attractions exist is because the damn casino is the cash register."
Comments will be moderated. Keep comments relevant to the article. Remarks containing abusive and obscene language, personal attacks of any kind or promotion will be removed and the user banned. Final decision will be at the discretion of the Taipei Times.