CSC to maintain domestic steel prices following eight months of cuts
China Steel Corp (CSC, 中鋼), the nation's biggest steelmaker, yesterday said it would keep its prices unchanged for products to be delivered to domestic clients in December compared with August, as some of its global peers have reduced output to ease a supply glut.
That ends eight months of price cuts by CSC, which took its cue from bigger Chinese rivals Baosteel Group Corp (寶鋼) and Wuhan Iron and Steel Corp (武鋼).
Global steel demand has been in the doldrums this year because of the flagging global economy, CSC said.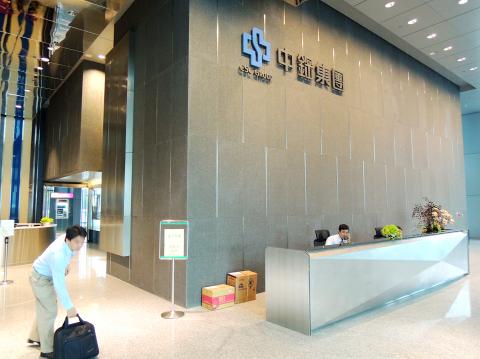 A receptionist answers the phone at China Steel Corp's headquarters in Kaohsiung on Sept. 25.
Photo: Luo Chien-i, Taipei Times
"The fourth quarter is usually a high season for the steel industry, but demand has not materialized this year," the Siaogang District (小港), Kaohsiung-based company said in a statement.
CSC is looking for future demand to sustain its business.
"We expect China to launch new economic stimulus measures to boost domestic demand after posting lackluster 6.9 percent GDP growth last quarter. Those measures might help stabilize the steel market," CSC vice president Liu Jih-gang (劉季剛) said by telephone yesterday.
"That Baosteel recently maintained its steel prices for November contracts indicates that the market is to stabilize in the near future," Liu said. "We are also seeing growing calls for major Chinese mills to cut output to alleviate prolonged oversupply."
Baosteel chairman Xu Lejiang (徐樂江) reportedly said that China's steelmakers are planning to cut crude steel output by 20 percent, as most mills swung into the red last quarter following a series of overcapacity-driven price cuts.
"It will be a blessing for the global steel market as the 20 percent reduction is significant, bringing China's crude steel production down to 167,000 tonnes from 220,000 tonnes," Liu said. "We will closely monitor the situation to see if the plans are fulfilled."
China's crude steel production dropped 3 percent year-on-year to 66.1 tonnes last month, according to the statistics compiled by the World Steel Association.
China's output made up more than half of the worldwide output of 131 million tonnes last month, the data showed.
Global steel demand is expected to return to annual growth of 0.7 percent next year after contracting by 1.7 percent this year, CSC said in a statement, citing a World Steel Association projection.
Comments will be moderated. Keep comments relevant to the article. Remarks containing abusive and obscene language, personal attacks of any kind or promotion will be removed and the user banned. Final decision will be at the discretion of the Taipei Times.