IMF voices global economic concern
The IMF on Wednesday voiced concern about the global economy, weakened by China's slowdown and facing a potential "vicious cycle" from a looming US interest rate hike.
"On the economic front, there is ... reason to be concerned. The prospect of rising interest rates in the United States and China's slowdown are contributing to uncertainty and higher market volatility," IMF managing director Christine Lagarde said in a speech in Washington, according to the prepared text.
Lagarde also pointed to the "sharp deceleration" in the growth of global trade and the "rapid drop" in commodity prices, which is hammering the finances of commodity-exporting emerging market economies.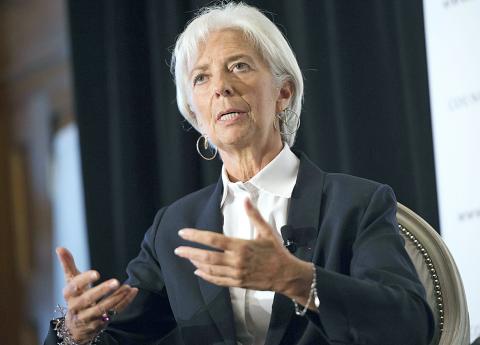 IMF managing director Christine Lagarde speaks about the world financial situation during a Council of the Americas event in Washington on Wednesday.
Photo: AFP
Many of the recent economic gains in Asia, Africa and Latin America "now seem in jeopardy," said Lagarde, addressing the Council of the Americas ahead of next week's IMF and World Bank annual meetings to be held in Lima, Peru.
The IMF head said that the fund's World Economic Outlook report, to be published on Tuesday, would project weaker growth this year than last year and only a slight pick up next year.
In her speech, Lagarde emphasized the fund's concern about the US Federal Reserve plan to raise its benchmark interest rate. The rate rise, still on the Fed's radar for this year, could drive investors to pull funds from emerging countries into the US and further strengthen the strong US dollar, the currency on which the debt of many companies is based.
"Rising US interest rates and a stronger dollar could reveal currency mismatches, leading to corporate defaults — and a vicious cycle between corporates, banks, and sovereigns," Lagarde said.
The IMF has repeatedly called for the Fed to wait until next year to increase its key rate for the first time in more than nine years.
Fed Chair Janet Yellen said the hike would likely come before year's end.
Lagarde, in an interview with the CNBC television network, expressed support for Yellen's stance that a rate hike would be data-dependent.
"We don't see much movement on the inflation front, nor on the wages front," Lagarde said. "If the data are not telling that story of inflation rising a bit by December, then why do it in December?
Comments will be moderated. Keep comments relevant to the article. Remarks containing abusive and obscene language, personal attacks of any kind or promotion will be removed and the user banned. Final decision will be at the discretion of the Taipei Times.