After tears for crocodiles, Birkin keeps name on bag
British singer Jane Birkin has dropped a request to have her name taken off a Hermes handbag after the group reviewed its treatment of crocodiles, a company statement said on Friday.
"Following the heartfelt emotion expressed by Jane Birkin and her request for explanation, Hermes in agreement with her reiterates its firm commitment in the ethical treatment of crocodiles in its partner farms," the luxury fashion house said.
It said the 68-year-old singer said she was "satisfied" by the measures taken by Hermes.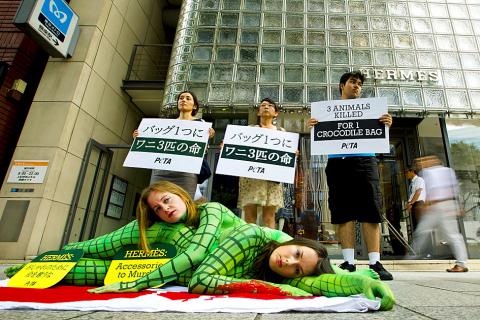 People for the Ethical Treatment of Animals campaigners protest against the use of crocodile skin in Hermes bags outside Hermes' flagship store in Tokyo on July 30.
Photo: Reuters
Contacted by reporters, Birkin's agent confirmed the news.
After Birkin learned of the "cruel" methods associated with the production of crocodile-skin bags, she asked the luxury manufacturer to take her name off the bag in late July.
The bag was designed for Birkin in 1984, after a chance meeting of the singer and the group's then-president, Jean-Louis Dumas.
The bag has since become a celebrity favorite, beloved of Victoria Beckham, Kim Kardashian and characters in the Sex and the City television series, among others.
The crocodile version, which costs at least 33,000 euros (US$36,000), is one of Hermes' best-known products.
People for the Ethical Treatment of Animals (PETA) released a video about the slaughter of crocodiles for the production of the famous bags, with reptiles allegedly "cruelly hacked" to death to produce a purse.
After Birkin announced her request to have her name removed, PETA said on its Web site: "On behalf of all kind souls in the world, we thank Ms Birkin for ending her association with Hermes."
Comments will be moderated. Keep comments relevant to the article. Remarks containing abusive and obscene language, personal attacks of any kind or promotion will be removed and the user banned. Final decision will be at the discretion of the Taipei Times.