China loosening its requirements on bank lending
China on Friday loosened the means for calculating the reserve requirement ratios of banks, Xinhua news agency reported, effectively increasing the amount of money banks can lend.
The move does not amount to a formal cut in the reserve requirement ratio (RRR), but will allow banks to undershoot it by as much as 1 percent on a daily basis as long as they meet the requirement on average.
Loosening the RRR is also a stimulatory measure as it increases the amount of money banks can lend, which can boost economic activity.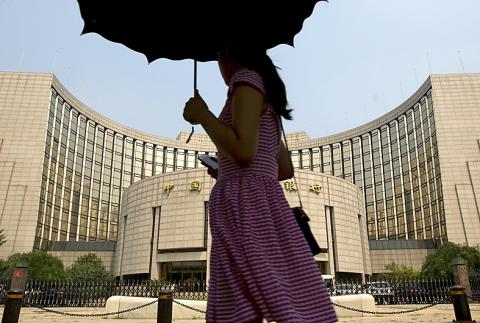 A woman walks past the People's Bank of China in Beijing on Aug. 11.
Photo: AP
Earlier this week, the Chinese Ministry of Finance announced that it would accelerate major construction projects, encourage private capital to invest in key areas and cut taxes for small and medium-sized enterprises to support growth.
In another positive move, media reports said that China is preparing to unveil broad reforms for state-owned companies which will see some firms shut and others introduce more diversified ownership.
Friday's report stated that China's central bank has changed "its reserve requirement rules, replacing the current daily assessment of bank reserves with an averaged approach," Xinhua reported.
"Starting from Sept. 15, the reserves of commercial banks will be regulated on an average basis during an assessed period, but there will be a minimum daily amount of reserves, the central bank said in an online statement," according to Xinhua.
It did not specify over what period the average will be calculated.
By the end of each business day, the reserve ratio of commercial banks will be allowed to be less than 1 percent lower than the compulsory ratio set by the central bank.
The report quoted the People's Bank of China as saying that the reform will "help commercial banks ensure both efficiency in their capital use and a safe liquidity level."
Comments will be moderated. Keep comments relevant to the article. Remarks containing abusive and obscene language, personal attacks of any kind or promotion will be removed and the user banned. Final decision will be at the discretion of the Taipei Times.