Apple event date set for San Francisco
ASK SIRI: Apple has shrouded its annual media event in mystery as usual, but there is speculation that the focus will be on wearable devices and an iPhone 6 'phablet'
Apple Inc on Thursday sent out invitations to a Sept. 9 media event, hinting that the Siri virtual assistant software in its mobile devices is to play a role.
In trademark enigmatic style, the e-mailed invitations provided little more than the time and place of the event. Beneath graphics based on the Apple logo was written "Hey Siri, give us a hint."
The timing of the Apple event did not come as a surprise since the California-based company is known to host September events to announce iPhone updates.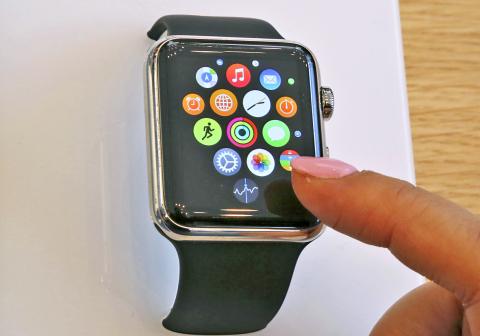 An Apple Watch is demonstrated at an Apple store in Tokyo on April 10, this year. A report on Thursday last week estimates Apple shipped 3.6 million watches last quarter.
Photo: AP
Rumors about the coming event included the possibility of new iPhone models and news about Apple TV set-top boxes.
Industry trackers expect Apple to unveil new-generation big-screen iPhone 6 models.
The large-screen iPhone 6 has ridden the popularity of "phablets" that blend features of smartphones and tablet computers.
Improvements are likely to include faster processing power and improved camera capabilities along with screens that can distinguish light touches from hard presses for more nuanced controls.
Apple could also use the media event to showcase milestones, such as product sales.
International Data Corp (IDC) on Thursday said that Apple's freshly launched smartwatch was a hot commodity in the second quarter of this year.
Apple Watch was hot on the heels of activity tracker Fitbit Inc, the top device in the "wearable computing" market, according to IDC estimates. Apple has not released official smartwatch sales figures.
Apple shipped 3.6 million smartwatches to rank second behind Fitbit, which shipped 4.4 million units during the second quarter of this year, according to IDC.
Overall shipments of wearable computing devices increased 223 percent to 18.1 million from the 5.6 million units shipped in the second quarter last year, IDC calculated.
"Anytime Apple enters a new market, not only does it draw attention to itself, but to the market as a whole," IDC wearables team manager Ramon Llamas said in a note released with the figures.
"Fairly or not, Apple will become the stick against which other wearables are measured, and competing vendors need to stay current or ahead of Apple," he said.
IDC senior research analyst Jitesh Ubrani said Apple was poised to become the leader of the wearable computing market, with basic devices such as Fitbit activity trackers that do not run third-party applications eventually losing ground.
"In the short history of the wearable market, a clear divide has formed between smart wearables and basic wearables," IDC said in a release.
"Price and functionality are the main differences between the two categories and that gap is expected to widen over time," it said.
Comments will be moderated. Keep comments relevant to the article. Remarks containing abusive and obscene language, personal attacks of any kind or promotion will be removed and the user banned. Final decision will be at the discretion of the Taipei Times.