China must sustain reforms: IMF
The IMF on Friday said that China, the world's second-largest economy, could face a "disorderly correction" followed by slower growth if its reform program slows.
Presenting its annual assessment of China, the IMF expressed satisfaction with its transition to a more market-oriented economy. However, it also said Beijing should stay the course, despite recent warning signs.
"The faster the progress, the sooner the benefits will materialize," said Markus Rodlauer, IMF mission chief for China and one of the authors of the review.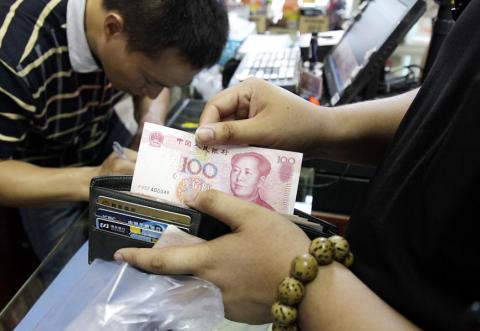 A customer takes out a 100 yuan bill at a convenience store in Beijin on Thursday.
Photo: EPA
The report forecasts 6.8 percent growth for this year, relatively low by recent Chinese standards but this was expected as Beijing transitions to a more sustainable model.
It also said the yuan is no longer undervalued, despite Beijing ordering this week's steep fall against the US dollar, noting it was still well up over the year.
The IMF was also sanguine about the recent turmoil on Chinese stock markets, which it said does not threaten the wider economy.
However, it urged Beijing to quickly unwind its massive state intervention to support falling share prices and said that the true risk would come from slowing reform.
"Insufficient progress in containing vulnerabilities and advancing structural reforms continues to pose the biggest risk to the outlook," Rodlauer warned. "If there were going ahead insufficient progress that would be the biggest risk that, if realize, could result over the medium term in a disorderly correction and a protracted period of slower growth."
Markets and some world governments have been alarmed by this week's decision by China to devalue the yuan, but the IMF said it should be seen as a step toward a more market-oriented exchange rate approach.
"The exact impact will depend on how the new mechanism is implemented going forward," Rodlauer told reporters. "China can and should aim to achieve a full floating exchange rate system within two to three years."
Asked whether the yuan's fall would help China's in its quest to see the yuan become one of the reserve currencies in the IMF's Special Drawing Rights (SDR) basket, Rodlauer was cautious.
"The announced change has no direct impact on the criteria used in determining the composition of the basket," he said, calling for a "more market-oriented" rate.
China sees gaining SDR status for the yuan as a recognition of its role in the world financial system as a reserve currency on a par with the US dollar or the euro.
Comments will be moderated. Keep comments relevant to the article. Remarks containing abusive and obscene language, personal attacks of any kind or promotion will be removed and the user banned. Final decision will be at the discretion of the Taipei Times.