ASE cautious on Q3 prospects
'MIXED MESSAGES': The world's largest chip packager and tester posted net income of NT$3.7 billion, down 18 percent quarter-on-quarter and 28.5 percent year-on-year
Advanced Semiconductor Engineering (ASE, 日月光), the world's largest chip packager and tester, yesterday said its revenue growth momentum would likely be restrained this quarter.
"At best, the situation in the first half can be described as an environment filled with mixed messages," ASE chief operating officer Tien Wu (吳田玉) said, citing a downturn in the PC industry and tight inventory controls in the semiconductor supply chain.
The company's third-quarter guidance foresees flat or limited growth of between 1 percent and 5 percent at its core integrated circuit assembly, test and material (IC ATM) business, but it expects gross margin to remain relatively unchanged from the first quarter.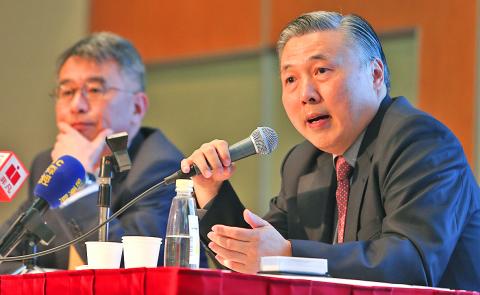 Advanced Semiconductor Engineering chief financial officer Joseph Tung, left, listens as chief operating officer Tien Wu speaks at a media briefing in Taipei yesterday.
Photo: CNA
This quarter, the company's electronic manufacturing service (EMS) unit should see revenue grow by between 7 and 8 percent from the previous quarter to approach the levels seen in the fourth quarter last year, but the unit's gross margin would likely decline slightly, the company told a press conference.
In the second half, ASE is expecting sequential revenue growth in both the IC ATM and EMS businesses, the company said.
It is also hoping to build momentum on its existing and upcoming new system-in-package (SiP) projects, such as 2.5D flip-chip IC solutions that promise 20 times the maximum input/output counts compared with the available alternatives.
ASE also said that it hopes to bolster its SiP paradigm and toolbox platforms to promote integration of heterogeneous components and functionalities in the most efficient form, as well as greater collaboration between global partners in the vertical supply chain.
"We are cautiously optimistic about sales prospects in the second half, despite low visibility," Wu said.
Gross margin for the packaging business in the second quarter declined slightly to 22.7 percent from 23.7 percent, while the figure for its testing operations rose to 35.2 percent from 34.3 percent, materials operations declined from 17.1 percent to 16.2 percent and electronic manufacturing service declined from 8 percent to 6.4 percent.
"In the first half, we have seen more aggressive inventory adjustments by our clients, but such measures usually last no more than two quarters," Wu said.
ASE reported second-quarter net income of NT$3.7 billion (US$117.1 million), or earnings per share of NT$0.48, down 18 percent quarter-on-quarter and 28.5 percent from the previous year.
Nevertheless, consolidated revenue in the first half rose 19.03 percent percent year-on-year to NT$134.9 billion to hit a new record high.
In particular, the sales contribution from the advanced SiP business tripled from the previous year, boosting its contribution to total revenue from 7 percent to 15 percent, the company said.
Comments will be moderated. Keep comments relevant to the article. Remarks containing abusive and obscene language, personal attacks of any kind or promotion will be removed and the user banned. Final decision will be at the discretion of the Taipei Times.