S Korea's duty-free shops hurt by MERS
CATCHING A CHILL: Lotte Duty Free says its outlets are not as full as they usually are, as thousands of Chinese tourists cancel tours to South Korea or shorten their visits
Lotte Duty Free, South Korea's largest operator of duty-free shops, expects revenue to decline this month as the spread of Middle East respiratory syndrome (MERS) damps visitor arrivals in the country.
Sales may have declined about 10 percent so far this month at the company's three outlets in Seoul, and could worsen as the number of visitors from China drops, Lotte Duty Free said in an e-mailed statement.
In addition, some Chinese tourists are cutting short their trips, it said.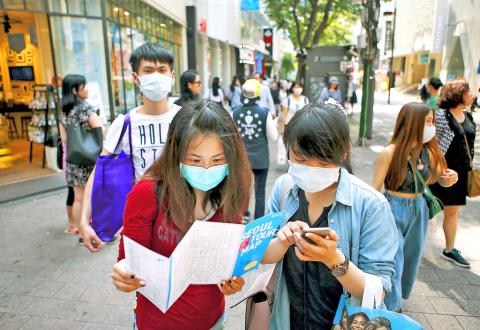 Tourists wearing face masks yesterday look at a map in the Myeongdong shopping district of Seoul, as the South Korean government struggles to ease fears at home and abroad about an outbreak of Middle East respiratory syndrome.
Photo: Reuters
Large numbers of overseas visitors are canceling trips to South Korea as MERS has killed nine people there and the number of confirmed cases rose to 108. Most of the 54,400 tourists who have canceled travel plans are from China, according to the Korea Tourism Organization.
"June revenue doesn't look good," Lotte Duty Free said. "Our outlets aren't as full as they used to be and there are more customers wearings masks."
Revenue from Chinese tourists accounts for about 70 percent of the total at the company's two biggest outlets in Seoul, the store operator said.
Lotte Duty Free is a subsidiary of Hotel Lotte Co, which is 8.8 percent owned by Lotte Shopping Co.
Concerns about MERS hit South Korean tourism-related shares hard yesterday.
Korean Air Lines Co dropped 4.3 percent, the most in a month, to close at 38,050 won in Seoul. Hotels, travel agencies and casino and duty-free operators also fell, with Hotel Shilla Co 2.3 percent lower. South Korea's benchmark Kospi index fell 0.6 percent.
Duty-free operators are not the only ones seeing business suffer from MERS: Tour agencies also are facing cancelations from overseas visitors.
"It's going to be a bad month not just for the duty-free operators, but also tour agents and other retailers," said Kim Seung-churl, an analyst at Meritz Securities Co in Seoul. "It couldn't have come at a worse time with the peak summer season about to start."
Seoul's Incheon International Airport holds the world's largest duty-free zone by revenue.
Kim said it could be overtaken this year by Dubai International Airport because of the drop in visitors to South Korea.
Hana Tour Service Inc, the country's largest travel agency, said about 40 percent of the 9,000 tourists from China and Hong Kong that planned to visit had canceled this month.
The number of cancelations for next month is still small, the company said in an e-mailed response.
Fewer visitors from Japan and other countries had canceled, Hana Tour said.
"Tourists from China and Hong Kong seem to be more cautious about traveling because of SARS," Hana Tour said. "They still remember how it was then, so they're being very careful."
About 4.6 million people visited South Korea in the first four months of the year, up 12 percent from a year earlier, according to the tourism organization. The largest number — 2.1 million — came from China, followed by 655,553 from Japan and 216,753 from Taiwan.
Comments will be moderated. Keep comments relevant to the article. Remarks containing abusive and obscene language, personal attacks of any kind or promotion will be removed and the user banned. Final decision will be at the discretion of the Taipei Times.