Computex's spotlight on IoT products
ANNUAL SHOW: The trade fair will be held in three of the Taiwan World Trade Center's halls and the Taipei International Convention Center from tomorrow through Saturday
The Internet of Things (IoT) and wearable devices are still the major trends for this year's Computex Taipei, having become more mature than a year ago, analysts said.
"While there was a lot of noise about Apple's Inc's Apple Watch in terms of demand and supply, we are positive about wearable device market," JPMorgan Securities Ltd analysts led by William Chen (陳威元) said in a report released on Tuesday.
JPMorgan forecast the market value of wearable devices, which range from smart watches, smart bracelets to smart glasses and even smart garments, would grow to US$40 billion by 2020.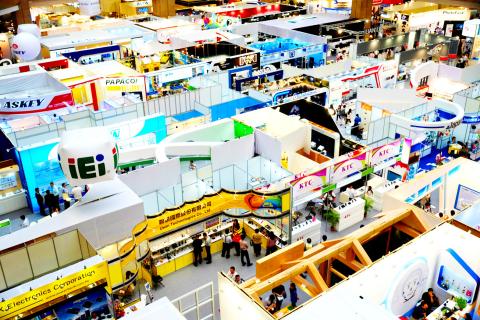 Booths crowd the floor at the Taipei World Trade Center during Computex Taiwan on June 4 last year.
Photo: Sam Yeh, AFP
International Data Corp (IDC) predicted global wearable device shipments would hit 45.70 million units this year, with smart wristwear devices accounting for about 90 percent of total shipments, compared with 19.60 million units last year.
Visitors for this year's Computex are expected to see manufacturers' innovative new hardware components for wearable devices, such as force touch, wireless charge and voice control, Chen said.
Acer Inc's (宏碁) IoT products at the fair include the abPBX-plus series communication network for business, the aBeing One minicomputer and abTouchPhone, which is a desk phone with a built-in Android tablet.
The company's three Liquid Leap smart wristbands — which monitor wearers' heartbeat and notify them of incoming calls and texts — are also to be displayed.
Asustek Computer Inc (華碩) will exhibit its second-generation ZenWatch and the health-oriented VivoWatch, as well as new smartphones and notebook products, including its 2-1 detachable notebooks.
Microsoft Corp will display a wide range of PC-related products powered by the company's new operating system, Windows 10, which it hopes will help stimulate PC demand.
However, CIMB Securities Ltd does not believe the firm's new operating system is likely to have the magic to trigger a replacement wave.
"We believe it is risky to bet on Windows 10 because in the previous cycles, Windows 7 and Windows 8 did not stimulate strong upgrade demand," CIMB analyst Wang Wanli (王萬里) said in a client note on Tuesday.
Commenting on Intel Corp's upcoming new Skylake CPU, which is expected to be launched in August, Wang said it is hard to convince consumers to replace their PCs just because of a new, more powerful CPU.
Computex Taipei opens tomorrow and runs through Saturday at the Taipei World Trade Center's (TWTC) Hall 1, Hall 2 and Nangang Exhibition Hall as well as the Taipei International Convention Center.
Comments will be moderated. Keep comments relevant to the article. Remarks containing abusive and obscene language, personal attacks of any kind or promotion will be removed and the user banned. Final decision will be at the discretion of the Taipei Times.