Asian markets end week down, but Tokyo recovers
Tokyo stocks reversed early losses to end slightly higher on Friday thanks to a weaker yen.
Sydney rose on news that manufacturing activity in China — a crucial market for many Australian firms — recorded another modest expansion last month.
The Nikkei 225 index edged up 11.62 percent to 1,9531.63. Sydney gained 0.43 percent, or 24.90 points, to 5,814.90, and Wellington advanced 0.10 percent, or 6.06 points, to 5,797.40.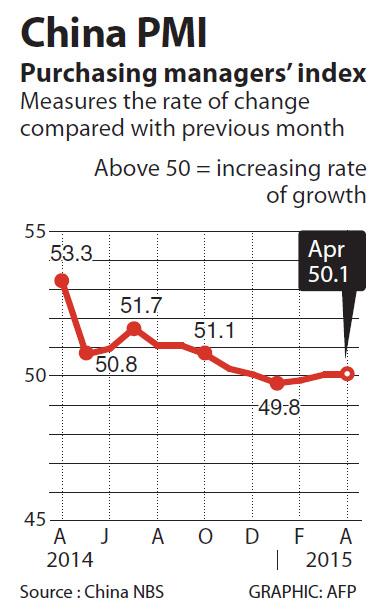 Photo: AFP
All other major Asian markets were closed for public holidays.
Tokyo, which tumbled 2.69 percent on Thursday, recovered from an initial sell-off as the US dollar jumped back toward ¥120. In the afternoon the greenback bought ¥119.75, up from ¥119.38 in New York late on Thursday.
Japan said Friday that the nation's core inflation picked up for the first time in 10 months in March.
Core inflation, which excludes volatile fresh food prices, rose 2.2 percent year-on-year in March partly on higher utility bills, logging the first increase since May last year, data from the internal affairs ministry showed.
However, stripping out the impact of a sales tax rise last year, inflation was a tepid 0.2 percent, well short of the Bank of Japan's 2 percent target.
China's official purchasing managers index came in at 50.1 last month, the same as in March when the gauge expanded for the first time this year. Anything above 50 points to growth, while anything below indicates a contraction.
While positive, the figures suggest the Asian economy is still struggling with a sharp slowdown.
Most Asian stock markets sank on Thursday after US growth data fell well short of forecasts.
Shares in Taiwan closed lower on Thursday amid concerns over a slow second quarter for the tech sector, dealers said.
While large-cap electronics stocks such as Taiwan Semiconductor Manufacturing Co. (TSMC, 台積電) encountered downward pressure amid earnings concerns, buying rotated to some old economy stocks, in particular in the textile sector, lending support to the broader market, dealers said.
The TAIEX ended down 33.78 points, or 0.34 percent, at the day's low of 9,820.05, off an early high of 9,894.90. Turnover totaled NT$112.48 billion (US$3.65 billion) during the session.
Shanghai fell 0.78 percent, or 34.97 points, to 4,441.65. Hong Kong shed 0.94 percent, or 267.34 points, to 28,133. Seoul fell 0.72 percent, or 15.46 points, to end at 2,127.17.
In other markets:
Mumbai fell 0.79 percent, or 214.62 points, to end at 27,011.31. Bangkok closed up 0.28 percent, or 4.27 points, to 1,526.74.
Kuala Lumpur's main index slipped 1.34 percent, or 24.66 points, to close at 1,818.27. Jakarta
Comments will be moderated. Keep comments relevant to the article. Remarks containing abusive and obscene language, personal attacks of any kind or promotion will be removed and the user banned. Final decision will be at the discretion of the Taipei Times.