Deutsche Bank retreats on 'universal bank' strategy
Deutsche Bank AG on Friday said that it would spin off its Deutsche Postbank AG network of bank branches in Germany and reduce risk in investment banking as it responds to pressure from regulators.
The decision to sell Postbank, which offers retail banking services from German post offices, signals a retreat from Deutsche Bank's ambition to be a so-called "universal bank" serving residents of small towns as well as hedge funds on Wall Street.
The bank said in a statement that it was reaffirming its "commitment to remain a leading global bank based in Germany."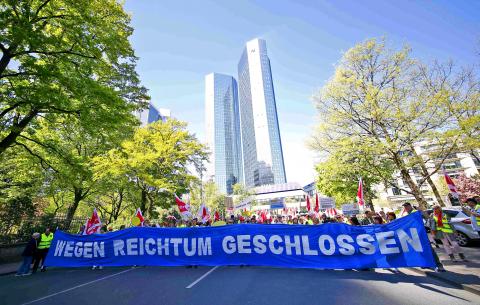 Employees of Deutsche Postbank AG, members of German union Verdi, carry a banner that reads "Closed due to wealth" during a warning strike in front of the headquarters of Deutsche Bank in Frankfurt, Germany, on Friday.
Photo: Reuters
However, it added that it would reduce leverage in its investment banking unit, heeding regulators who have criticized it for using too much borrowed money in relation to its own capital.
The bank offered only the broad outlines of the reorganization, which was approved by the bank's supervisory board on Friday. The bank's co-chief executives, Anshu Jain and Juergen Fitschen, scheduled a news conference for tomorrow to present more details.
Pressure from regulators has made it more difficult for Deutsche Bank to reconcile risky investment banking activities with the steadier, but less profitable business of taking deposits and writing loans. It has been constrained by perceptions that the investment banking business, based in London and New York, risked the savings of ordinary Germans.
Deutsche Bank on Thursday agreed to pay a US$2.5 billion penalty to settle accusations it was among banks that manipulated the benchmarks used to set rates on trillions of dollars in loans. The fine was the highest so far of any banks accused in the case.
While no top executives of Deutsche Bank were accused of being directly involved in the rate fixing, US and British authorities criticized what they said were lax internal controls and failures to heed warnings that misconduct was taking place. Officials also portrayed Deutsche Bank as suffering from organizational chaos that hampered efforts to collect evidence.
Comments will be moderated. Keep comments relevant to the article. Remarks containing abusive and obscene language, personal attacks of any kind or promotion will be removed and the user banned. Final decision will be at the discretion of the Taipei Times.