China said to be probing ex-central bank governor
China's anticorruption agency is investigating whether former People's Bank of China governor Dai Xianglong (戴相龍) used his government posts to enrich his family, people familiar with the matter said.
Dai, who was bank governor from 1995 to 2002, is cooperating with the probe and has not been accused of any wrongdoing, according to the people, who asked not to be identified because the inquiry has not been made public.
Investigators are studying whether Dai, 70, used his influence or passed along inside information to the financial benefit of his relatives, the sources said.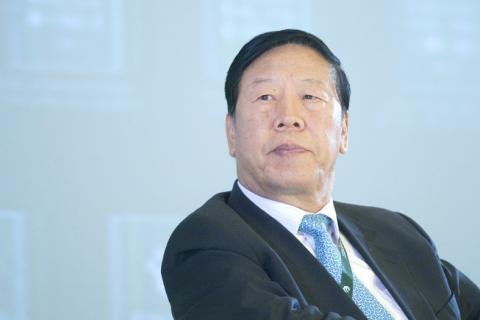 Former People's Bank of China governor Dai Xianglong attends a conference in Beijing on Nov. 9, 2011.
Photo: Bloomberg
China's Central Commission for Discipline Inspection (CCDI), the Chinese Communist Party agency that is spearheading Chinese President Xi Jinping's (習近平) two-year anticorruption drive, is leading the inquiry, the sources said.
The decision to investigate Dai's family stemmed from an investigation into former vice minister of state security Ma Jian (馬建), the people said.
The commission in January said that Ma was being probed for "serious law and discipline violations" — a euphemism for graft. Ma has been out of contact and there have been no further announcements about his case since he was stripped of his membership in the national committee of the Chinese legislature's advisory body in February.
The investigators are looking into Dai's term as bank governor, as well as his subsequent mayorship in Tianjin and his stint as head of China's National Council for Social Security Fund. He left that job in 2013, Xinhua news agency has reported.
Under Dai's leadership at the bank, China escaped mostly unscathed from the 1997 Asian financial crisis and implemented sweeping reforms to make its four big state-owned banks more competitive. The banks were unburdened of billions of dollars in bad loans left over from decades of forced lending to state-owned enterprises, clearing the way for a string of record share offerings in Hong Kong.
Comments will be moderated. Keep comments relevant to the article. Remarks containing abusive and obscene language, personal attacks of any kind or promotion will be removed and the user banned. Final decision will be at the discretion of the Taipei Times.