XYZprinting's latest 3D printer aimed at schools
Local 3D printer manufacturer XYZprinting Inc (三緯) yesterday launched its first entry-level model for students, hoping to see shipments quadruple to 120,000 units this year.
Last year, XYZprinting sold more than 30,000 3D printers, mostly for household use and designers, a company executive said.
With such growth, XYZprinting will turn a profit this year, chairman Simon Shen (沈軾榮) said on the sidelines of a news conference.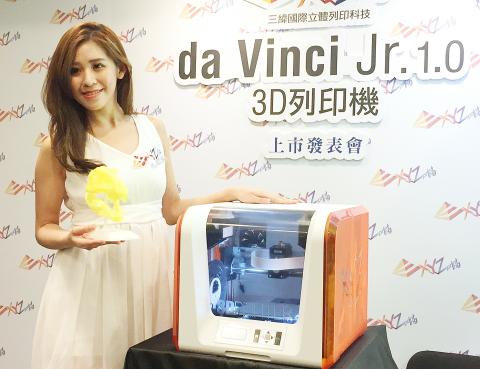 A model stands next to XYZprinting's newest 3D printer, the da Vinci Jr 1.0, at a news conference in Taipei yesterday as debuts in the local market.
Photo: CNA
Broadening its product lineup, the company plans to roll out its first 3D food printer and a commercial model by the end of this year, Shen said.
"We are not worried at all [about growth]. We are seeing a continuous rising trend in demand," Shen said.
MARKET OUTLOOK
Global shipments of 3D printers are expected to more than double to 217,350 units this year and expand to 2.3 million units in 2018, compared with 108,151 units last year, market researcher Gartner Inc projected.
"This year, the US will remain the biggest export destination for the company. We expect China to catch up with the US next year and to become a market as big as the US," Shen said.
The market is expected to benefit from Beijing's plans to equip each elementary school in China with a 3D printer.
"Beijing is encouraging young people to turn their design ideas into products," Shen said.
LENOVO LINK
The three-year-old XYZprinting, a subsidiary of the New Kinpo Group (新金寶集團), is upbeat about the Chinese market, as the company has teamed up with Lenovo Group Ltd (聯想) to sell 3D printers there via China's number one PC brand's e-commerce subsidiary.
The company's new model, dubbed the Da Vinci Jr 1.0, carries a price tag of NT$9,999 per unit and is XYZprinting's first effort to bring 3D printing technology to the education sector.
In addition to the developed economies like the US, Europe and Japan, XYZprinting is expanding its reach markets including China, Iran, Turkey and Thailand.
To cope with its fast growth, XYZprinting has increased its workforce to more than 200 people, from 40 people since the company's inception in 2013.
Comments will be moderated. Keep comments relevant to the article. Remarks containing abusive and obscene language, personal attacks of any kind or promotion will be removed and the user banned. Final decision will be at the discretion of the Taipei Times.