FEATURE: Asustek bullish on smartphone sales to China
Like most of its global competitors, such as Apple Inc, Asustek Computer Inc (華碩) is also counting on China to grow its new smartphone business and to hit its ambitious shipment target of 30 million units this year, more than tripling last year's 8.5 million units.
Ahead of its official launch in Beijing today, the PC maker has about 2 million pre-sale orders for its latest flagship Zenfone 2 in China. That is a huge step for Asustek, which only sold between 600,000 and 700,000 smartphones in China last year.
"We hope the contribution from China will rise from last year's 7 to 8 percent to 30 percent of total smartphone shipments this year," Asustek chief executive Jerry Shen (沈振來) told reporters before a product launch in Beijing on March 27.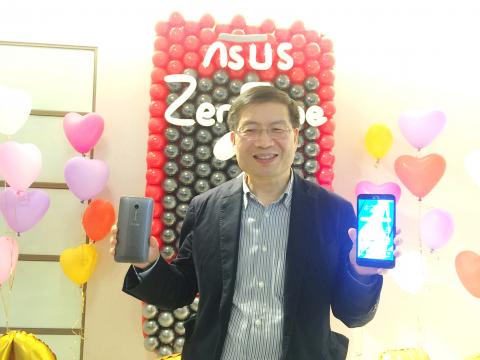 Asustek chief executive Jerry Shen holds two of the company's Zenfone 2 smartphones at a pre-launch promotional event in Taipei on Feb. 13.
Photo: CNA
That translates into a shipment target of 9 million handsets in China this year.
China shipped a total of 420.7 million handsets last year, market researcher International Data Corp (IDC) said. Shipments are expected to grow 10 percent year-on-year to more than 462 million units this year, IDC said.
Asustek's shipment target of 9 million units could help the firm gain nearly a 2 percent share of the Chinese market this year.
The company has raised its global smartphone shipments forecast three times in two months because of its optimism about the Chinese market.
At an investors' conference in February, Shen said the smartphone business would become profitable when the firm ships more than 12 million units and that it expects to sell more than 17 million units by the end of this year.
During a Zenfone 2 product launch in Taiwan last month, Asustek chairman Jonney Shih (施崇棠) said the firm aims to triple its global smartphone shipments to 25 million units this year.
Two weeks later, Shih said he sees the company selling 30 million handsets this year.
Asustek chief financial officer David Chang (張偉明) told the Taipei Times that Shih raised the shipment target to 30 million units mainly because the company believes its new flagship product will be a great success in China.
"Zenfone 2 is the first and only smartphone that offers 4GB RAM globally. That unique spec has caught the eye of consumers," Chang said, citing an enthusiastic response to the handsets in China, Taiwan and Europe.
Chang said 80 percent of global demand for the Zenfone 2 is for the 4GB RAM model, which is a good thing for the company because the model is priced higher and has a higher margin compared with the firm's other handsets.
To gain a market share in China, Chang said Asustek last year launched the sub-brand Pegasus smartphone, which uses chips made by Qualcomm Inc and MediaTek Inc (聯發科), targeting the lower-priced segment of the market.
Expanding to the higher-priced segment this year, the company expects the mid-range 5.5-inch Zenfone 2, which is equipped with an Intel Corp processor, to complete a range of smartphones in the market and drive the firm's sales performance, Chang said.
Generally, Intel processors cost more than those made by Qualcomm or MediaTek, but Intel is the only firm capable of making 4GB RAM available at the moment. Asustek plans to adopt Qualcomm's processor when it is able to match Intel's technology, Chang said.
The cost of the processor affects a smartphone's price strategy and the product's margin.
The Pegasus is priced between 899 yuan and 999 yuan (US$146 and US$163), while the Zenfone is priced at 2,000 yuan, the company said.
As part of its sales strategy, Asustek has partnered with Chinese telecoms to sell the Pegasus, while Zenfone 2 would be available via local retailers and online shopping sites, the company said.
At the end of last year, Asustek invited Chinese telecommunication equipment provider ZTE Corp's (中興通訊) former vice president Wang Yong (王勇), who has wide experience with Chinese telecoms and retailers, to be Asustek's deputy general manager for its Chinese smartphone business.
Asustek's smartphone segment accounted for 17 percent of the firm's total revenues of NT$477.4 billion (US$15.25 billion) last year, Shen said, adding that the company hopes the revenue contribution from the segment would grow to 30 percent this year on the back of growing demand in Taiwan and emerging markets.
"We hope the smartphone segment will account for more than 50 percent of our total sales by 2017, contributing more revenue than our PC products," Shen said.
Comments will be moderated. Keep comments relevant to the article. Remarks containing abusive and obscene language, personal attacks of any kind or promotion will be removed and the user banned. Final decision will be at the discretion of the Taipei Times.