Buffett weighs in on income inequality
WEALTH GAP: The Berkshire Hathaway chairman and chief executive said he favors adjusting the US federal earned income tax credit rather than the minimum wage
Investor Warren Buffett says the economy continues to grow steadily, but too many people continue to miss out on the American dream.
Buffett told CNN on Thursday that he does not see any real sign of weakness in the US economy.
Buffett looks at reports from the more than 80 businesses his Berkshire Hathaway conglomerate owns for insight, but he reiterated his concerns about income inequality in the US while the super-rich continue to thrive.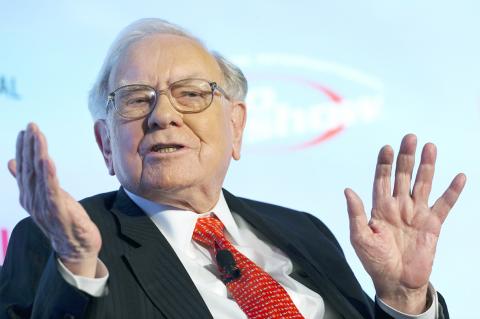 Berkshire Hathaway chairman and chief executive Warren Buffett speaks at a National Auto Dealers Association event in New York on Tuesday.
Photo: Reuters
He said that the US should be able to do more to help people who are struggling to do better.
"All kinds of people are left behind and there are structural reasons for that," said Buffett, who is Berkshire Hathaway's chairman and chief executive.
Instead of increasing the minimum wage, Buffett said he favors adjusting the federal earned income tax credit to help people who do not earn much because it will not prompt businesses to cut jobs. The billionaire has also long supported higher taxes on the ultra-rich, including himself.
"I think a rich society — a very rich society — can figure out ways to have those people do better than they are doing," Buffett said.
A new US Depatment of Labor report released on Thursday showed that most incomes in the US continued to fall last year, but the richest 20 percent saw theirs rise.
In fresh data that adds fire to a growing debate over income inequality, the department said that Americans on average saw income decline for the second straight year in the 12 months to June last year.
The average pre-tax income fell 0.9 percent from the same period a year earlier, to US$64,432, but broken down into quintiles, those in the top 20 percent of incomes saw their money stream grow by 0.9 percent to US$166,048 on average.
Every other group lost ground, with the bottom 20 percent losing the most — their average income dropped 3.5 percent to US$9,818.
Those losses came despite an economy that was picking up pace and generating more than 200,000 jobs a month last year.
While the majority of incomes fell, consumer spending, which accounts for about two-thirds of US economic activity, rose 1 percent on average.
The largest increase was an 11.3 percent rise in healthcare spending, which has climbed every year since 1996, to an average of US$3,919.
Housing expenditure rose 2 percent to US$17,377.
The new data added further evidence of the widening disparity between the rich and the rest of the US, an issue that is stirring growing concerns as the economy strains to recover from the Great Recession caused in part by Wall Street excesses.
US Federal Reserve Chair Janet Yellen has repeatedly raised the issue.
On Thursday, at a Fed conference on economic and social mobility in Washington, Yellen emphasized that "roughly 80 percent of Americans across the ideological spectrum see inequality as a moderately big or very big problem," according to her prepared remarks.
Additional reporting by AFP
Comments will be moderated. Keep comments relevant to the article. Remarks containing abusive and obscene language, personal attacks of any kind or promotion will be removed and the user banned. Final decision will be at the discretion of the Taipei Times.