'Troika' expect Greece to miss surplus target: report
BAILOUT BLUES: A media report said the 'troika' did not see Greece meeting its goal of 3%, while in a bid to drum up cash Athens is to sell its stake in Piraeus Port
The European Commission, the IMF and the European Central Bank, known as the "troika," expects Athens to miss its goal of a primary budget surplus this year, German magazine Der Spiegel reported on Saturday, citing a source within the group of lenders.
Greece's former conservative government last year said it would achieve a primary surplus of 3 percent of GDP this year, but the magazine quoted the source as saying: "Probably nothing will remain from that."
It added Greece's financial situation had worsened since January due to a lack of reforms under Greek Prime Minister Alexis Tsipras.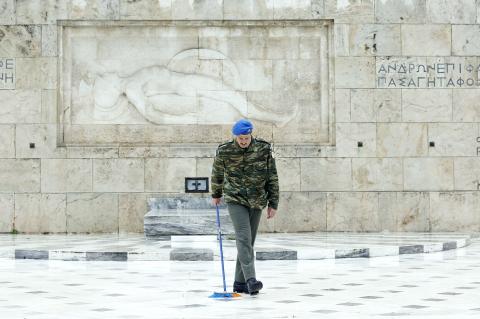 An officer sweeps away rainwater from the monument of the Unknown Soldier in front of the parliament building in Athens, on Saturday.
Photo: Reuters
A spokesman for German Minister of Finance Wolfgang Schaeuble declined to comment on the report, that also estimated Greece's funding gap had grown to up to 20 billion euros (US$21.78 billion).
Greece has sent its creditors a long-awaited list of reforms with a pledge to produce a small budget surplus this year in the hope that this would unlock badly needed cash, Greek government officials said on Friday.
The list estimates a primary budget surplus of 1.5 percent this year, below the 3 percent target included in the nation's existing bailout, and growth of 1.4 percent, the official said.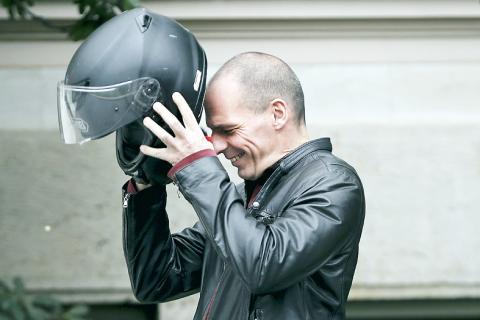 Greek Finance Minister Yanis Varoufakis smiles while putting on his motorbike helmet following a meeting with Greek Prime Minister Alexis Tsipras at the Maximos Mansion in Athens on Friday.
Photo: Reuters
The Greek Ministry of Finance recently revised last year's primary budget surplus to 0.3 percent, from 1.5 percent of GDP as estimated by the former conservative government and agreed with the nation's international lenders.
The ministry said its estimate was based on preliminary data and was partly due to a shortfall of 3.9 billion euros in state revenue late last year.
Greek Deputy Prime Minister Giannis Dragasakis was quoted by Xinhua news agency as saying that Greece would sell its 67 percent stake in the Piraeus Port Authority (OLP) within weeks, a U-turn by the government as it seeks funds from its creditors.
China's COSCO Group (中國海運集團) was among five preferred bidders shortlisted under a privatization scheme agreed by the previous conservative-led government as part of a 240 billion euro ($261.37 billion) bailout program which Tsipras is seeking to renegotiate.
However, the importance of raising capital appears to have proven more important to the debt-stricken country.
Cosco and other bidders "can make a very competitive offer," Dragasakis said during a visit by Greek ministers to China, Xinhua reported.
The deal would be completed in weeks after being slightly delayed by the change in Greek government, Dragasakis said, who hinted that Cosco was a forerunner, Xinhua reported.
OLP runs Pier 1 of Piraeus Port, Greece's largest. China's Cosco already manages two of Piraeus port's cargo piers.
Greece has also launched a three-year program that includes large projects with China, Dragasakis added.
Comments will be moderated. Keep comments relevant to the article. Remarks containing abusive and obscene language, personal attacks of any kind or promotion will be removed and the user banned. Final decision will be at the discretion of the Taipei Times.