US oil worker strike enters second day as crude prices slide
The strike by oil workers at plants that account for 10 percent of US refining capacity entered its second day yesterday in the biggest walkout since 1980. Crude futures fell.
The United Steelworkers (USW) union that represents employees at more than 200 refineries, terminals, pipelines and chemical plants stopped work on Sunday at nine sites after failing to agree on a renewed labor contract. The union rejected five offers made by Royal Dutch Shell PLC on behalf of companies including ExxonMobil Corp and Chevron Corp since talks began on Jan. 21.
The USW has not called a strike nationally since 1980, when a stoppage lasted three months.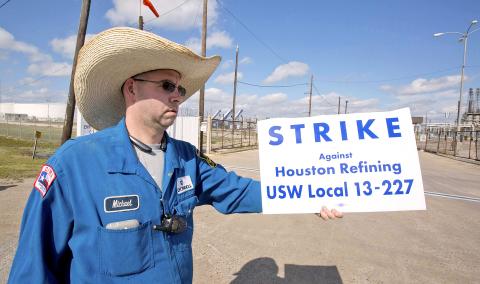 A United Steelworkers union member walks a picket line outside the Shell Deer Park refinery complex in Deer Park, Texas, on Sunday.
Photo: Reuters
While only one of the nine plants has curbed production amid the stoppage, a full walkout of USW workers would threaten to disrupt as much as 64 percent of US fuel output.
Shell and union officials began negotiations amid the biggest collapse in oil prices since 2008.
"If the strike escalates, that would be detrimental to the oil price," David Lennox, a resource analyst at Fat Prophets in Sydney, said by telephone. "It will put high US production out on the market and there is nowhere for it to go."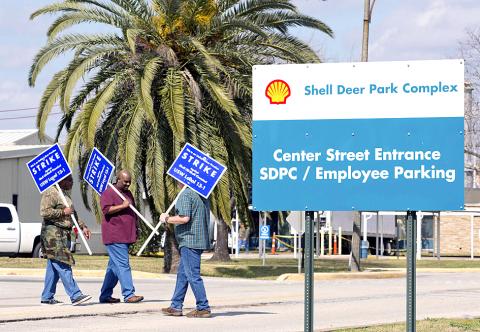 Workers from the United Steelworkers union walk a picket line outside the Shell Deer Park refinery complex in Deer Park, Texas, on Sunday.
Photo: Reuters
US benchmark West Texas Intermediate oil fell as much as US$1.57 per barrel, or 3.3 percent, to US$46.67 in electronic trading on the New York Mercantile Exchange. It jumped 8.3 percent on Friday last week, the biggest one-day advance since June 2012.
Gasoline for March delivery slid US$0.233 per gallon, or 1.6 percent, to US$1.4555, and the diesel contract for the same month was US$0.189 lower at US$1.6819.
The refineries on strike can produce 1.82 million barrels of fuel per day, data compiled by Bloomberg show. They span the US, from Tesoro Corp's plants in Martinez, California; Carson, California; and Anacortes, Washington; to Marathon Petroleum Corp's Catlettsburg complex in Kentucky and three sites in Texas, according to the USW's statement.
In Texas, Shell's Deer Park complex, Marathon's Galveston Bay plant and LyondellBasell Industries NV's Houston facility have been affected, the union said. LyondellBasell activated its work continuation plan, spokesman George Smalley said on Sunday.
Tesoro will shut down remaining processing units at its Martinez, California, refinery in the next 24 hours, company spokeswoman Destin Singleton said in an e-mailed statement.
The 166,000 barrel-per-day refinery already had about half its capacity offline for planned maintenance, Singleton said.
More refineries are standing by to join the sites on strike, according to two people familiar with the plan who asked not to be identified because the information is not public.
Shell remained "committed to resolving our differences with USW at the negotiating table and hope to resume negotiations as early as possible," Ray Fisher, a spokesman for The Hague-based company, said by e-mail on Saturday.
Comments will be moderated. Keep comments relevant to the article. Remarks containing abusive and obscene language, personal attacks of any kind or promotion will be removed and the user banned. Final decision will be at the discretion of the Taipei Times.