Delta touts use of robots in manufacturing
Delta Electronics Inc (台達電), the nation's top power supply maker, yesterday said it has introduced its first industrial robot, the Selective Compliance Assembly Robot Arm (SCARA), into its production line to increase capacity and efficiency.
"By adopting SCARA in our electric motor rotor product line, we expect daily production capacity to increase three times, while reducing manpower by 60 percent," Delta chairman Yancey Hai (海英俊) told reporters.
Hai said Delta has also adopted SCARA's smart automation solutions for other product lines to shorten production turnover and improve yields.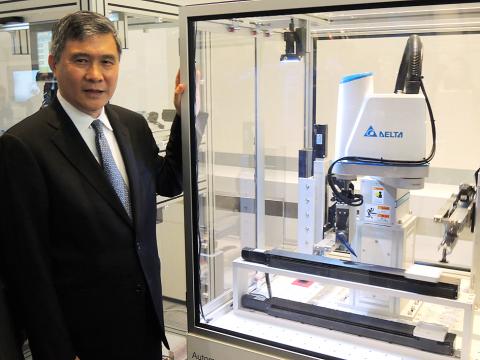 Delta Electronics Inc chairman Yancey Hai yesterday demonstrates the company's first industrial robot, the Selective Compliance Assembly Robot Arm (SCARA), at a media event in Taipei.
Photo: Lo Chien-yi, Taipei Times
The smart solutions include pick-up and placement on production lines, Hai said, adding that it can also carry out data analysis to improve manufacturing precision.
While there are many other companies that use industrial robots for manufacturing in line with the trend toward industrial automation, Delta has the edge because it produces its own key components, Hai said.
The SCARA DRS40L series features a 400mm-long arm that can lift up to 3kg, and is suitable for deployment in light industries that require high-speed and high-precision manufacturing, Hai said.
Delta has been developing industrial automation for years and Hai said he is upbeat about the outlook for the company's industrial robots.
CIMB Securities Ltd this week said that industrial automation would continue to be a growing trend in China in the face of increasing labor costs, and this could become a revenue driver for Delta this year.
"We expect better revenue growth of 10 to 15 percent for the firm's industrial automation business this year on the back of a market recovery and its more complete product portfolio," CIMB analyst Felix Pan (潘俊宏) said in a client note on Tuesday.
Delta reported sales of NT$49.51 billion (US$1.57 billion) for last quarter, up 1.83 percent from the previous year's NT$48.62 billion, but down 1.86 percent from the previous quarter's NT$50.45 billion.
For the full year, Delta's consolidated revenues advanced 7.67 percent year-on-year to NT$190.63 billion last year.
The company's shares closed at NT$187 yesterday in Taipei trading, up 1.08 percent from a day earlier, outperforming the TAIEX, which gained 0.53 percent.
Comments will be moderated. Keep comments relevant to the article. Remarks containing abusive and obscene language, personal attacks of any kind or promotion will be removed and the user banned. Final decision will be at the discretion of the Taipei Times.