Toyota leads global sales — again
Toyota Motor Corp stayed at the top in global vehicle sales last year — taking that auto industry crown for the third consecutive year — but is less upbeat about this year.
The Japanese automaker sold 10.23 million vehicles, beating Volkswagen AG and General Motors Co (GM). However, it expects to sell fewer trucks and cars this year, forecasting that sales will fall 1 percent year-on-year to 10.15 million vehicles, according to numbers it released yesterday.
The drop is largely due to a projected 9 percent plunge in sales in Japan. Japanese sales had been inflated in the early part of last year ahead of a sales-tax hike. Overall, the Japanese auto market is weakening because of the nation's population decline.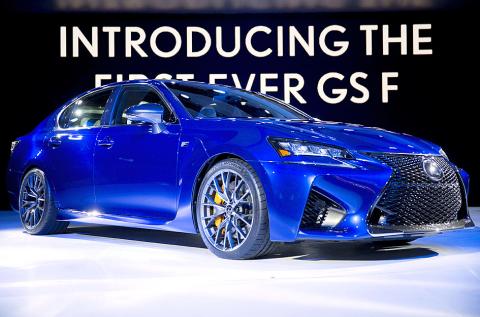 Toyota Motor Corp's 2016 Lexus GS F is unveiled during this year's North American International Auto Show in Detroit, Michigan, on Tuesday last week. Lexus brand's sales rose 14 percent to 311,389 last year.
Photo: Bloomberg
Toyota expects overseas sales to grow by 2 percent from 7.9 million vehicles last year to more than 8 million vehicles this year.
Germany's Volkswagen sold 10.14 million vehicles last year, up 4 percent from the previous year. Detroit-based GM was third with 9.92 million vehicles, a company record and 2 percent higher than its tally in 2013. GM gave its numbers earlier this month.
Selling 10 million vehicles around the world in a year is a milestone for major automakers. The race is intense, as automakers increasingly compete in new markets.
Toyota's sales grew by 6 percent in the US from the previous year, 13 percent in China and 10 percent in Brazil, the maker of the Camry sedan, Prius hybrid and Lexus luxury models reported.
Toyota suffered a setback in 2011, when its production was hobbled by the Tohoku earthquake and tsunami in northeastern Japan, but it made a comeback as No. 1 in 2012.
GM had been the top-selling automaker for more than seven decades until being surpassed by Toyota in 2008.
However, it is Volkswagen that has been racking up stellar growth in recent years, beating GM last year and in 2013. Still, that year, GM would have won if both companies had been compared without the sales of industrial truck brands, which GM does not make.
Last year, Volkswagen outsold GM even without its heavy trucks, which totaled 199,900 vehicles. Toyota's Hino division, which makes trucks, sold 168,000 vehicles last year.
Comments will be moderated. Keep comments relevant to the article. Remarks containing abusive and obscene language, personal attacks of any kind or promotion will be removed and the user banned. Final decision will be at the discretion of the Taipei Times.