Bank of Japan slashes inflation outlook
CRUDE AWAKENING: An analyst tempered expectations of additional fiscal stimulus measures arriving as early as April, as the central bank maintained monetary policy
The Bank of Japan yesterday slashed its inflation outlook as plunging crude prices dent efforts to tame deflation, but policymakers boosted growth forecasts and said Japan's economy was rebounding.
The bank, which held off fresh easing measures after a two-day policy meeting, said inflation for the year starting in April would come in at 1 percent, well down from an earlier 1.7 percent forecast.
However, the economy would expand by 2.1 percent, up from 1.5 percent, it said.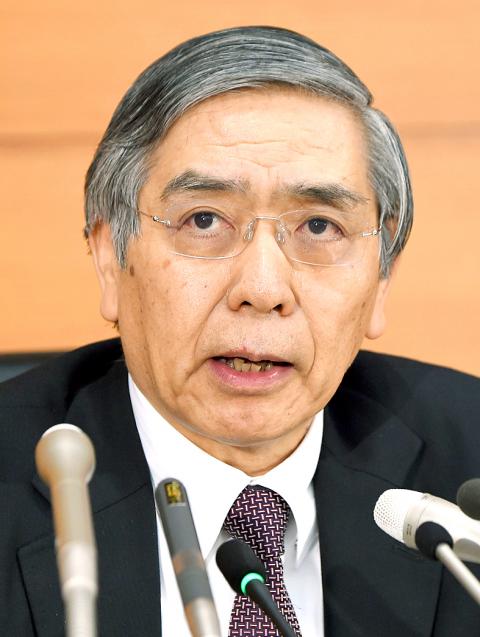 Bank of Japan Governor Haruhiko Kuroda answers questions during a news conference at the bank's headquarters in Tokyo yesterday.
Photo: AFP
The price downgrade underscores how reaching the bank's 2 percent inflation target by early next year looks increasingly unlikely, and it may ramp up expectations for further stimulus to invigorate the world's No. 3 economy.
Bank Governor Haruhiko Kuroda previously acknowledged that falling oil prices threatened the bank's inflation bid, but he said that cheaper energy should give the wider economy a shot in the arm and generate higher prices.
"Kuroda will be under pressure to increase stimulus," JPMorgan Chase & Co economist Masamichi Adachi told reporters. "It must be getting harder for him to communicate with market participants, with the economy expected to recover while inflation is slowing due to oil."
The bank also expanded and extended a lending program set to expire in March to assist Kuroda's bid to stoke inflation.
The central bank increased the main part of the Growth-Supporting Funding Facility to ¥10 trillion (US$85 billion) from ¥7 trillion, it said in a statement.
The bank had given out ¥5.8 trillion in credit as of Dec. 5 last year under the entire program, which includes a US dollar-lending facility.
Eligibility for the Stimulating Bank Lending Facility was expanded. The facility has unlimited capacity and the bank had extended ¥19 trillion of credit as of Dec. 16. It was also set to expire in March. Both were extended by a year.
The yen rose in Asia trading yesterday, despite the central bank's slashing of its outlook on inflation.
The US dollar slipped to ¥117.39 to US$1 yesterday afternoon, down from about ¥118.40 before the bank's decision and ¥118.80 in New York trading.
The euro bought ¥135.97 and US$1.1582 against ¥137.24 and US$1.1553 in US trading.
The bank kept up its view that the economy was on track for a recovery, and said its longer-term inflation view remains unaffected.
The inflation rate in the year starting April next year would come in at 2.2 percent, it said.
"With regard to the CPI [consumer price index], the outlook for the underlying trend remains unchanged, but the year-on-year rate of increase will likely be lower toward fiscal 2015, due to the significant decline in crude oil prices," the bank said in a statement.
The rest of the statement largely mirrored one issued after the bank's meeting in December, when it struck a more upbeat view, saying that exports were showing signs of picking up, while factory output was bottoming out.
"Apart from a minor tweak to its lending programs, the Bank of Japan left policy settings unchanged today and signaled no concern about the impact of lower oil prices," Capital Economics said after the decision. "The chances of additional stimulus being announced as early as April as we currently expect have thus diminished somewhat."
Additional reporting by Bloomberg
Comments will be moderated. Keep comments relevant to the article. Remarks containing abusive and obscene language, personal attacks of any kind or promotion will be removed and the user banned. Final decision will be at the discretion of the Taipei Times.