US Fed open to wider rate hike
ON COURSE? Janet Yellen said that even with a drop in energy costs, the Fed is confident inflation would turn and eventually approach the central bank's 2% target
The US Federal Reserve on Wednesday offered a strong signal that it was on track to raise interest rates sometime next year, altering a pledge to keep rates near zero for a "considerable time."
Closing out a two-day meeting against a backdrop of solid domestic growth, but trouble overseas, the US central bank said it would take a "patient" approach in deciding when to bump borrowing costs higher.
Asian stock markets powered higher yesterday, sweeping aside worries about a flagging global economy in the wake of the new Fed rate wording.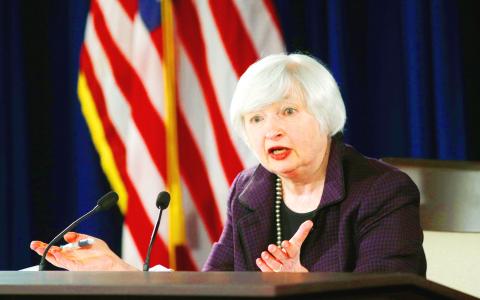 US Federal Reserve Chair Janet Yellen speaks at a news conference at the Federal Reserve in Washington on Wednesday.
Photo: Reuters
Tokyo climbed 2.32 percent, while Sydney jumped 0.95 percent. In late trade, Hong Kong was 1.02 percent higher and Shanghai added 0.66 percent. Markets in Taiwan and Southeast Asia also gained.
Fed Chair Janet Yellen told a news conference that "patient" meant the policysetting US Federal Open Market Committee was unlikely to hike rates for "at least a couple of meetings," meaning April next year at the earliest.
The Fed has held benchmark overnight rates near zero since December 2008.
"Based on its current assessment, the committee judges that it can be patient in beginning to normalize the stance of monetary policy," the Fed said.
Significantly, it said the statement was "consistent" with its prior guidance that it would wait a "considerable time" before hiking rates.
Yellen told reporters that even with a sharp drop in energy costs, the Fed felt confident that inflation would eventually turn higher and approach the central bank's 2 percent target, and she suggested officials would feel comfortable raising rates as long as other economic signals stayed strong and expectations of future inflation held firm.
"By the time of liftoff, participants expect to see some further decline in the unemployment rate and additional improvement in labor market conditions," Yellen said.
After a week of turbulence in global financial markets, the US central bank looked firmly beyond economic difficulties in the eurozone, Japan and Russia, offering a mostly upbeat assessment of the US economy's prospects.
Updated quarterly projections, presented as ranges that exclude the three highest and lowest individual forecasts, showed policymakers continue to expect the US economy to grow between 2.6 percent and 3 percent next year.
They foresee the unemployment rate, currently at a six-year low of 5.8 percent, moving down to an average of between 5.2 percent and 5.3 percent toward the end of next year.
However, Fed officials said that inflation was likely to slow next year to between 1 and 1.6 percent, the result of a cratering in oil prices. However, core inflation, which excludes volatile food and energy costs, is projected to dip only a bit next year before turning higher to close in on the Fed's target by the end of 2016.
Balancing optimism on growth and jobs with the reality of low inflation, policymakers indicated they would take a slower approach to the pace of future rate hikes.
The median projected federal funds rate — the Fed's main economic lever — was 1.125 percent for the end of next year, a quarter of a percentage point lower than the previous projection. Officials also lowered projections for 2016 and 2017.
Despite the sharp drop in oil prices and the collapse of the Russian ruble, the Fed's statement excluded any mention of the recent global economic turmoil.
Asked whether spillover from Russia's crisis could harm the US economy, Yellen said the two countries were too loosely linked to expect any appreciable impact.
"I see the spillover as pretty small, but we're obviously watching that closely," she said.
Comments will be moderated. Keep comments relevant to the article. Remarks containing abusive and obscene language, personal attacks of any kind or promotion will be removed and the user banned. Final decision will be at the discretion of the Taipei Times.