Far EastTone aims to double subscribers to 4G service
Far EasTone Telecommunications Co Ltd (遠傳電信), the nation's third-largest telecommunications operator, yesterday said it aims to double the number of its fourth-generation (4G) clients next year.
The company expects its 4G subscribers to reach 2 million by the end of next year, up from 1 million at the end of this year, Far EasTone vice president Maxwell Cheng (鄭智衡) told reporters.
According to market researcher International Data Corp, total 4G subscribers in Taiwan are likely to reach between 8.4 million and 10 million by the end of next year.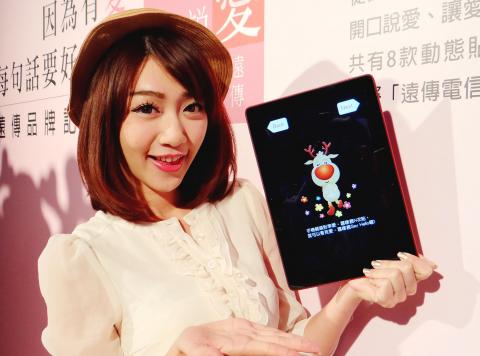 A model holds up Far EasTone Telecommunications Co's new Christmas-themed augmented reality app at a press conference in Taipei yesterday.
Photo: Wu Pei-hua, Taipei Times
By the end of this year, total 4G subscribers would be 3.3 million to 3.5 million, or even 3.8 million, as there are four telecoms offering the service, Cheng said, adding that total mobile telecom subscribers currently number about 29 million.
Next year, Far EasTone is to build more 4G base stations on the 1,800 megahertz (MHz) frequency band until there are twice as many stations than use the 700 MHz frequency band, Cheng said.
The company is to launch VoLTE (voice over long-term evolution) services for its 4G users next quarter, Cheng said.
In the upcoming quarter, other telecom operators might launch similar services, which can increase voice clarity and filter out background noise, he added.
From January through last month, Far EasTone registered revenue of NT$37.51 billion (US$1.19 billion), up 1.77 percent from NT$36.86 billion the previous year, according to a company filing with the Taiwan Stock Exchange.
"In the first half of this year, customers purchased more low-end 3G smartphones, and the company's sales started to pick up significantly from a year ago in the second half, when smartphone makers launched their flagship products and Far EasTone launched its 4G service," Cheng said.
Cheng said the high sales growth would continue through early next year, as the company now has enough iPhone 6 series smartphones for its customers.
Next year, Far EasTone's sales are expected to be boosted by smartphones that support carrier aggregation, which can improve Internet connection speeds.
The firm yesterday launched an augmented reality app that features 3D images related to the Christmas season. Users can download the app, available for free on Apple and Android devices.
The company also previewed a series of new commercials in collaboration with Ogilvy & Mather Taiwan that encourage people to talk nicely on the phone to those they care about even if they are busy.
It is the second time the company has launched a campaign to enhance its brand image, Far EasTone said, adding that it would spend NT$30 million on the commercials and related activities over a year.
In the long term, the company seeks to spend 50 percent of its marketing expenses on traditional media, down from 80 percent in the past, while increasing the proportion spent on social media — including Facebook, messaging app Line and YouTube — from 20 to 50 percent, Cheng said.
Comments will be moderated. Keep comments relevant to the article. Remarks containing abusive and obscene language, personal attacks of any kind or promotion will be removed and the user banned. Final decision will be at the discretion of the Taipei Times.