Intel predicts small sales rise in 2015
Intel Corp, the world's largest chipmaker, said sales next year will rise by a percentage in the "mid-single digits," in line with analysts' estimates, as it pushes into markets outside personal computers.
Gross margin next year will be about 62 percent, the Santa Clara, California-based company said on Thursday in a statement.
Intel, which held its yearly investor meeting yesterday, also said it will raise its annual dividend by 6.7 percent to US$0.96 a share. On a quarterly basis, that is an increase to US$0.24.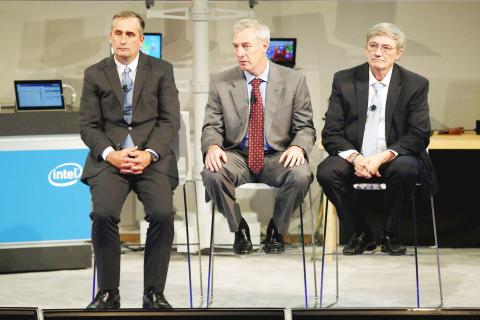 From left, Intel chief executive Brian Krzanich, executive vice president and chief financial officer Stacy Smith and executive vice president and general manager of the technology and manufacturing group Bill Holt answer questions during an investors' conference in Santa Clara, California, on Thursday.
Photo: Reuters
Under chief executive officer Brian Krzanich, Intel has benefited from steady corporate PC demand as well as growing sales of chips for servers — machines that crunch corporate data and supply information to the Internet — where it dominates with 98 percent of the market.
That means it is filling almost all the orders for server processors from cloud data-center operators such as Amazon.com Inc and Google Inc.
NEW GROWTH
"After two years of decline, we're growing again," Intel chief financial officer Stacy Smith said at Thursday's investors' meeting.
"2014 is turning out to be a better year than we thought," he said.
Analysts on average estimate this year's revenue will rise 6 percent, after sales slipped the past two years.
For next year, analysts had projected Intel would post sales of US$57.8 billion, a gain of 3 percent, with gross margin of 62.5 percent, according to data compiled by Bloomberg.
Gross margin, the percentage of sales remaining after deducting the costs of production, is the only measure of profit that Intel forecasts.
Intel shares rose 3.1 percent to US$35.40 at 1:37pm in New York on Thursday. The stock has gained more than 36 percent this year.
UNIT SALES DROPPING
While corporate replacement of aging office equipment has helped slow the decline of the PC market, unit sales are still on course to shrink for a third consecutive year, as consumers increasingly turn to smartphones and away from laptops, according to IDC Corp.
The boost that corporate PC purchases contributed to processor demand this year will tail off next year, Smith said.
The company expects unit sales next year to be unchanged from this year and revenue in the PC-chip division to decline slightly, he said.
Intel is also still struggling to replicate its strength in computer chips in the market for phones and other mobile devices.
While the company said yesterday that it is on course to meet its goal of shipping more than 40 million tablet processors this year, that target has come at a cost.
The chipmaker has been paying device makers subsidies to use parts that are too expensive for mainstream tablets.
PAYMENTS
Those payments resulted in an operating loss in the mobile unit of US$1.04 billion in the third quarter, following a loss of more than a billion dollars in the previous period.
Revenue in the mobile and communications group dropped to US$1 million in the third quarter from US$353 million a year earlier.
Comments will be moderated. Keep comments relevant to the article. Remarks containing abusive and obscene language, personal attacks of any kind or promotion will be removed and the user banned. Final decision will be at the discretion of the Taipei Times.