Record net profit, outlook up for TSMC
'VERY POSITIVE': TSMC had nothing but good news to report yesterday, in contrast with some forecasts, as demand for its 16nm and 20nm chips continues to increase
Taiwan Semiconductor Manufacturing Co (TSMC, 台積電), the world's top contract chipmaker, yesterday posted a record-high quarterly net profit for last quarter, fueled by robust demand for advanced 20-nanometer (nm) chips from Apple Inc.
Net income jumped 27.9 percent sequentially to NT$76.34 billion (US$2.51 billion) during the quarter ending Sept. 30, after the company's gross margin climbed to an eight-year high of 50.5 percent, compared with NT$59.7 billion in the second quarter of this year. That represented an annual expansion of 46.9 percent from NT$51.95 billion.
Last quarter's figure exceeded estimates by major foreign brokerages averaging NT$72.6 billion, with the highest projection NT$73.9 billion by Deutsche Bank.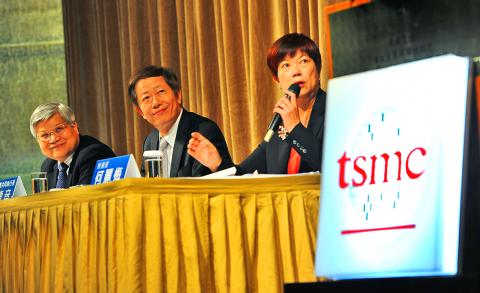 Taiwan Semiconductor Manufacturing co-CEOs Mark Liu, center, and Wei Che-chia, left, listen as the company's chief financial officer, Lora Ho, presents the company's third-quarter results at a press conference in Taipei yesterday.
Photo: Lo Pei-der, Taipei Times
In addition to the strong quarterly earnings, TSMC delivered some encouraging news including an earlier-than-expected ramp-up of its new 16nm technology.
TSMC expects to start mass production of the 16nm technology in the second quarter of next year at the earliest, one quarter ahead of its original estimate three months ago.
Along with big orders from clients, TSMC expects revenue from the advanced technology to make up a high single-digit percentage of its total revenue in the fourth quarter of next year, up from a low single-digit percentage estimated previously.
"This is very positive," Deutsche Bank analyst Michael Chou (周立中) said, as TSMC has been lagging behind rivals Intel Corp and Samsung Electronics Co in ramping up 16nm technology.
TSMC is one of Deutsche Bank's top picks in Taiwan's semiconductor industry, giving it a "buy" rating with target price of NT$120.5.
This quarter, the chipmaker expects revenue to grow by 4 to 5 percent to somewhere between NT$217 billion and NT$220 billion, compared with NT$209.5 billion last quarter, TSMC chief financial officer Lora Ho (何麗梅) told investors.
The sequential growth surpasses a 2 percent increase forecast by Chou.
"The growth is mainly from 20nm chip demand," Chou said. "Besides Apple, Qualcomm [Inc] also begins ordering [20nm chips] in the fourth quarter."
Over the next two years, Ho said she expects TSMC to grow revenue by a double-digit percentage annually, as smartphones and tablets continue to drive growth.
Half of TSMC's revenue this year would come from smartphones, she said.
"Strong demand from our 20nm SoC [system-on-chip] customers enables our continued growth in the fourth quarter, overcoming our seasonal demand pattern of a sequentially wearier fourth quarter," TSMC co-chief executive Mark Liu (劉德音) said.
Dismissing rising concern about the semiconductor industry's growth, Liu said: "This fourth-quarter demand from our customers invalidates the recent forecast by Microchip [Technology Inc]. Our recent demand in China still appears strong."
The US microcontroller supplier last week cut its revenue outlook for this quarter by up to 5 percent to US$546.2 million, from its previous estimate of between US$560 million and US$575 million, blaming weak demand in China and inventory buildup.
TSMC said this year's capital spending would be US$9.6 billion and that it had budgeted more than US$10 billion next year, mostly for 16nm and 10nm technologies.
TSMC also said it expected free cash flow to double next year from this year, enabling it to pay a bigger dividend per share.
Comments will be moderated. Keep comments relevant to the article. Remarks containing abusive and obscene language, personal attacks of any kind or promotion will be removed and the user banned. Final decision will be at the discretion of the Taipei Times.