US stocks gain on Fed decision, Alibaba
TOUGH CHALLENGES: US equities sailed through three big market-moving events, from the Fed's rate decision to Scotland's independence vote and Alibaba's IPO
US stocks faced big hurdles this week, but emerged stronger following a favorable US Federal Reserve decision, a rejection of Scottish independence and a record stock offering from Chinese company Alibaba Group Holding Ltd (阿里巴巴). The gains were strongest for the Dow Jones Industrial Average, which closed the week at record levels after tacking on 292.23 points (1.72 percent) to 17,279.74.
The broad-based S&P 500 gained 24.86 (1.25 percent) to 2,010.40, while the tech-rich NASDAQ Composite Index rose 12.19 (0.27 percent) to 4,579.79.
Trade was muted during the first part of the week, as the market held its breath ahead of an unusual convergence of big market-moving events. In the end, all three events went about as favorably as possible for US stocks, further lifting the bull market.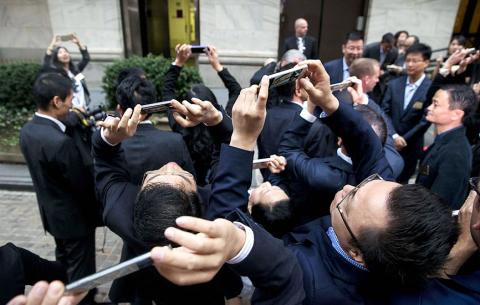 Alibaba Group Holding Ltd employees and executives use their mobile phones to take pictures as they arrive for the company's initial public offering under the ticker "BABA" at the New York Stock Exchange in New York on Friday.
Photo: Reuters
"It looks like the stars came into alignment this week," BMO Private Bank chief investment officer Jack Ablin said.
The news also "drowned out" some unfavorable economic data, such as weak US inflation figures and a poor industrial production results for last month, Ablin added.
On Wednesday, the Fed signaled it planned to keep benchmark interest rates near zero well into next year, confirming that any rate increase would take place only a "considerable time" after the Fed ends its bond-buying stimulus program next month.
Analysts had been watching to see if the Fed would move up its expectations for the timing of a rate hike. Compared with such a move, the Fed's decision was a "more favorable outcome," Ablin said.
Business interests in Britain and beyond had been girding for a potentially messy aftermath to the Scotland referendum if the vote went in favor of secession. Such an outcome raised murky questions about how Scotland would navigate its way out of its currency union with the rest of the UK. Major lenders Royal Bank of Scotland and Lloyds Banking Group had disclosed contingency plans to switch their operations England in the event of Scottish independence.
In the end, the "No" camp secured 55.3 percent of the vote against 44.7 percent for the pro-independence "Yes" camp in Thursday's referendum. Markets cheered the result.
"While the outcome of the Scottish referendum hasn't necessarily come as a huge surprise ... it certainly removes uncertainty which has put off of some investors from pouring money into stocks in recent weeks," trader Markus Huber at broker Peregrine & Black said.
The Fed decision and Scotland votes had both been viewed as risk events for equities, while the Alibaba initial public offering (IPO) had been anticipated as a likely positive catalyst.
However, if anything, the IPO of the Chinese online retail giant exceeded expectations. The shares were priced at US$68, at the top end of the expected range, and the offering raised US$25.02 billion, the highest in history.
Once the stock began trading, Alibaba share price leapt to US$92.07 in early trading, then to nearly US$100, before settling at the close to US$93.89 — a hefty gain of 38 percent.
Youssef Squali at Cantor Fitzgerald recommended Alibaba stock as an "opportunity to invest in China's largest e-commerce platform, which we believe has the potential to dominate global online commerce over time."
The Alibaba offering also helped push global IPO volume to US$176.1 billion this year, almost double the US$92.1 billion last year and only slightly below the 2007 record of US$178.5 billion, according to Dealogic.
After this week's drama, a more normal tempo is expected next week. There are a handful of data releases, including last month's existing-home and new home sales, durable goods orders and the third estimate of economic growth for the second quarter.
Comments will be moderated. Keep comments relevant to the article. Remarks containing abusive and obscene language, personal attacks of any kind or promotion will be removed and the user banned. Final decision will be at the discretion of the Taipei Times.