New designs in spotlight at Computex
HUGE POTENTIAL: Intel said that when wearable devices talk to different wearable devices through a cloud platform, business opportunities will open up
Intel Corp yesterday unveiled its first 14-nanometer Broadwell processor, designed especially for tablets, as it seeks greater market share in the mobile device market.
The US chip giant is expecting 130 Android and Windows tablets using Intel processors to debut this year, a number which is up from 30 last year.
On the first day of the annual Computex show in Taipei, Intel president Renee James introduced the company's Llama Mountain detachable notebook reference design powered by the Broadwell processor, saying the new mobile processor is designed especially for ultralight, 2-in-1 tablet-laptop hybrids.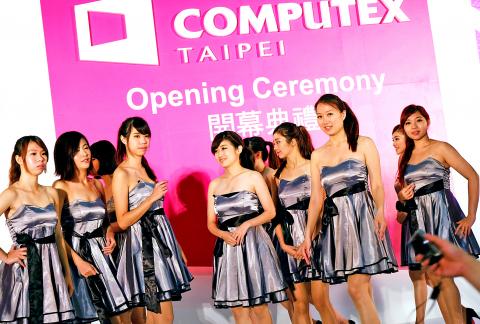 Volunteer workers pose for a photograph during the Computex show in Taipei yesterday.
Photo: AFP
"Whether it's a smartphone, smart shirt, ultra-thin, 2-in-1 or a new cloud service delivered to smart buildings outfitted with connected systems, together Intel and the Taiwan ecosystem have the opportunity to accelerate and deliver the value of a smart, seamlessly connected and integrated world of computing," James told a press conference.
The Broadwell chip is to be branded as an "Intel Core M processor" on some hybrids or standalone tablets when they are shipped later this year, she said.
On Monday, Asustek Computer Inc (華碩) unveiled its new Asus Transformer Book T300 Chi tablet-laptop hybrid that is powered by the Broadwell processor.
Even though Intel has been pushing further into mobile devices and the Internet of Things, James said that she disagrees with most analysts' concern that "the PC era is over."
Instead, she believes that Intel and the whole PC industry are to continue their journey through 2040 as technology companies keep working on new product research and development.
While the market expects to see more new products like wearables or other connected devices, vendors ultimately will have to come up with solutions for "integrated computing," which requires more energy-efficient chips by Intel or others, she said.
Tom Foldesi, senior director of Intel's new devices group, said that the company's development of wearable technology is expected to focus on five broad concepts, including providing unique technology, improving people's lives by solving practical problems and offering fashionable and personalized-style factors.
Another key concept is that wearable devices should be able to connect to a cloud computing platform to enable communication among different types of wearable devices, which could open up huge business opportunities, Foldesi said.
Lastly, wearable devices must have the capability to transform users' experience, for example by using smart sports shoes to track tennis players' movements on court and provide the audience with more information about the games, Foldesi added.
Other than Llama Mountain, Intel also unveiled its smartphone reference design powered by its dual-core Intel SoFIA 3G chip, which made its debut at the Mobile World Congress in Barcelona, Spain, in February.
James said the company plans to make its new smartphone chip available by the fourth quarter of the year, adding that the company is bringing its first quad-core SoFIA LTE chip to the market in the first half of next year by the earliest.
Additional reporting by CNA
Comments will be moderated. Keep comments relevant to the article. Remarks containing abusive and obscene language, personal attacks of any kind or promotion will be removed and the user banned. Final decision will be at the discretion of the Taipei Times.