Target's decision to fire CEO leads to wider concerns
CROSS-Border TROUBLE: The No. 2 US retailer moved into Canada last year with 124 stores, which created major logistics problems leading to soaring expenses
Target Corp's decision to oust Gregg Steinhafel as chairman and chief executive after a massive data breach last year has triggered concerns that the No. 2 US retailer might have even more bad news for investors.
The board of directors removed Steinhafel on Monday, saying it wants new leadership to help restore consumer confidence in the discount retailer.
"You got to wonder what prompted it now. What else will come to light," said Dieter Waizenegger, executive director of CtW Investment Group, which advises union pension funds with about US$250 billion under management, including those owning about 3.3 million Target shares.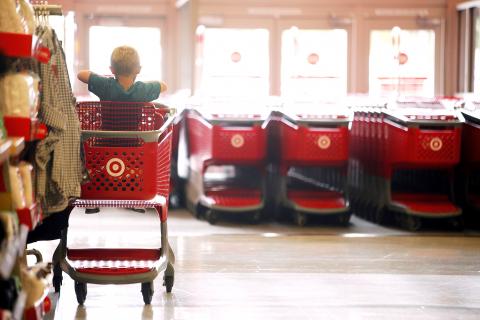 A child sits inside a shopping cart at a Target Corp store in Torrance, California, on Aug. 20 last year.
Photo: Bloomberg
Target's shares fell 3.5 percent to close at US$59.87 on Monday, a sign that investors were not convinced a change at the top alone would solve the problems facing the company.
In the year up to Friday's close, the stock fell 13.8 percent, while the S&P 500 rose 15.6 percent.
A 35-year veteran of the company, Steinhafel, 59, had been CEO since 2008. Just two years ago, the company was celebrated as the "cheap chic" alternative to No. 1 retailer, Wal-Mart Stores Inc.
The Minneapolis-based company named Target chief financial officer John Mulligan as interim chief executive, and Roxanne Austin, a member of the board of directors, as interim non-executive chairwoman of the board.
The company said it hired recruiting firm Korn Ferry to help the board find a new CEO, indicating it is open to finding an outsider to guide it out of its malaise, rather than pulling its next CEO from its executive ranks, as it did when it promoted Steinhafel from president.
Mulligan has served as the company's chief spokesman on the data breach, holding up well under scrutiny during US Congressional hearings.
Target disclosed the cyberattack in December last year, revealing the theft of at least 40 million payment card numbers and 70 million other pieces of customer data.
The impact of the breach is expected to have extended into the first quarter of the year. Analysts on average expect the company to report a decline of about 1 percent in first-quarter sales at established stores when it releases results in two weeks, according to Thomson Reuters I/B/E/S.
The most pressing tasks facing Steinhafel's successor include fixing Target's Canadian operations.
Last year, it opened 124 stores along with three distribution centers in Canada, its first market outside the US. No retailer has ever opened this many stores at one time in Canada. Nine more stores are planned for this year.
While the ambitious launch immediately gave Target a hefty market presence, it also created major logistics headaches.
Expenses soared as Target overstaffed stores and grappled with what it described as supply-chain congestion. That left many stores with barren shelves and complaining consumers, many of whom have been spoiled by less-expensive choices offered in Target stores just across the US border.
Last year, the company reported a loss of nearly US$1 billion in Canada on sales of US$1.3 billion. Overall, the company reported a 34 percent drop in net profit last year to US$1.97 billion.
Comments will be moderated. Keep comments relevant to the article. Remarks containing abusive and obscene language, personal attacks of any kind or promotion will be removed and the user banned. Final decision will be at the discretion of the Taipei Times.