Commodity prices retreat on mixed US data, Ukraine
The price of crude oil and metals came under pressure this week as investors took their lead from mixed updates on the US economy and the escalating Ukraine-Russia crisis.
OIL: Oil prices retreated on easing supply strains, despite a worsening situation over Ukraine.
Ukraine, a major conduit for Russian natural gas exports to western Europe, is monitored closely by investors who are concerned that a full-scale armed conflict will disrupt supplies and send energy prices soaring.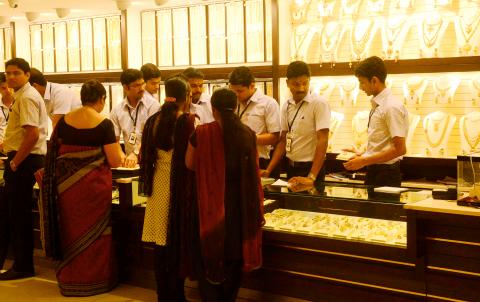 Indian women shop for gold ornaments and jewelry on the Hindu festival Akshaya Tritiya in a jewelry shop in New Delhi on Friday. Akshaya Tritiya is considered to be an auspicious day in the Hindu calendar and people generally flock to buy gold on this day in the belief that it will increase their wealth.
Photo: AFP
Russia on Friday called an emergency UN Security Council meeting after at least seven people were killed in an Ukrainian military assault on the flashpoint town of Slavyansk, the deadliest day for months in the crisis.
A furious Kremlin said the raid was "leading Ukraine towards catastrophe" and pronounced dead a peace deal struck in Geneva last month to ease the worst East-West confrontation since the Cold War.
Despite the unrest, oil prices were weighed down by official data showing that US crude oil stockpiles last week rose by 1.7 million barrels to 339.4 million — the highest weekly level since 1982 — indicating weaker demand in the world's largest economy.
That came a day after official data showed the US economy grew just 0.1 percent year-on-year in the first quarter. However, sentiment picked up after official data showed that the unemployment tumbled to 6.3 percent last month, the lowest level since September 2008.
By Friday on London's Intercontinental Exchange, Brent North Sea crude for delivery in June fell to US$108.71 a barrel from US$109.46 a week earlier.
On the New York Mercantile Exchange, West Texas Intermediate or light sweet crude for June dropped to US$99.93 a barrel compared with US$100.76 for the May contract on Thursday last week.
PRECIOUS METALS: Gold and silver retreated, hit by the US Federal Reserve's scaling back of its huge stimulus program.
"Precious metals are losing their attractiveness as a safe haven despite the Ukraine crisis," analysts at Commerzbank wrote in a client report.
By Friday on the London Bullion Market, the price of gold slipped to US$1,281.25 an ounce from US$1,301.25 on Thursday last week.
Silver decreased to US$19.17 an ounce from US$19.66.
On the London Platinum and Palladium Market, platinum increased to US$1,425 an ounce from US$1,418. Palladium gained to US$816 an ounce from US$805.
BASE METALS: Prices fell across the board, weighed down by strains to the Chinese economy.
Although China's manufacturing activity improved last month, showing increased strength for a second straight month, analysts cautioned over the latest data.
"We do not believe the economy has passed a turning point," Nomura economist Zhang Zhiwei (張智威) said.
Thursday's data, the first official reading on the world's second-largest economy in the second quarter, came after China's economic growth for the first three months of the year came in at its weakest pace in 18 months.
By Friday on the London Metal Exchange, copper for delivery in three months slid to US$6,648 a tonne from US$6,766.25 a week earlier.
Three-month aluminum slid to US$1,775.25 a tonne from US$1,856, while three-month lead slipped to US$2,078.25 a tonne from US$2,162.75.
Three-month tin fell to US$22,930 a tonne from US$23,700, three-month nickel retreated to US$18,150 a tonne from US$18,409 and three-month zinc declined to US$2,012 a tonne from US$2,060.50.
Comments will be moderated. Keep comments relevant to the article. Remarks containing abusive and obscene language, personal attacks of any kind or promotion will be removed and the user banned. Final decision will be at the discretion of the Taipei Times.