China to connect Shanghai, HK bourses
'SIGNIFICANT IMPACT': An analyst said the decision would greatly affect Hong Kong, as data showed limits were about 21 percent of average trading in the market
China has announced plans to connect the stock exchanges of Hong Kong and Shanghai, allowing a combined 23.5 billion yuan (US$3.8 billion) of daily cross-border trading.
Investors will be able to trade 10.5 billion yuan of Hong Kong-listed stocks through the Shanghai exchange and 13 billion yuan of mainland China shares through Hong Kong, the China Securities Regulatory Commission said in a statement yesterday.
That is equivalent to about 21 percent of the average daily value of shares traded in Hong Kong over the past year, and 14 percent of daily trading on the Shanghai Composite Index, according to data compiled by Bloomberg.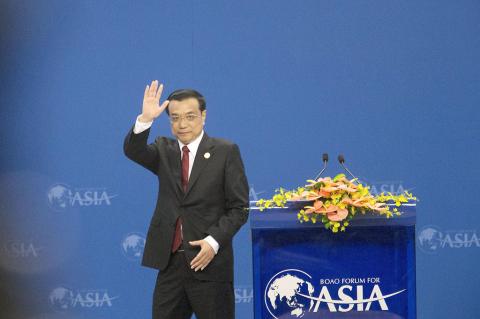 Chinese Premier Li Keqiang waves after delivering a speech at the Boao Forum for Asia in Boao, Hainan Province, China, yesterday.
Photo: Bloomberg
"The quota will have a significant impact on the Hong Kong market because it accounts for about a quarter or fifth of the daily turnover," Delta Asia Securities Ltd strategist Sam Chi Yung (岑智勇) said.
"The quota amount is a starting point," and may be increased, he said.
The aggregate quotas for the cross-border trading are 250 billion yuan for Hong Kong-listed stocks and 300 billion yuan for Shanghai shares, Hong Kong's Securities and Futures Commission (SFC) said.
The limits may be adjusted in the future, and preparations for the link will take about six months, according to a statement from the regulator.
Connecting the exchanges will "further improve the opening and healthy development of capital markets in China and Hong Kong," Chinese Premier Li Keqiang (李克強) said yesterday at the Boao Forum on China's Hainan Island. Stocks with a primary listing in Shanghai have a market value of US$1.94 trillion, compared with US$3.56 trillion for Hong Kong, data compiled by Bloomberg showed.
Individual investors in mainland China need at least 500,000 yuan in their securities account to take part in the trading link, according to the SFC.
"This is good news for Hong Kong stocks," Guotai Junan Securities Co (國泰君安證券) analyst Shirley Gu (古喬藝) said by telephone in Shenzhen. "It's not about the quota now — the key is that the expectation is realized and this is now a certainty. This could attract new foreign investors and more active trading in Hong Kong."
Mutual access would boost trading volumes and improve profitability for Hong Kong's exchange, AMTD Financial Planning Ltd (尚乘財富) general manager Kenny Tang (鄧聲興) said.
It would also help the Shanghai market in the long run as foreign investors buy cheap shares, while mainland Chinese individuals would have the option to invest in Hong Kong stocks, Tang said.
Comments will be moderated. Keep comments relevant to the article. Remarks containing abusive and obscene language, personal attacks of any kind or promotion will be removed and the user banned. Final decision will be at the discretion of the Taipei Times.