Formosa Plastics mulls US factory
INVESTMENT: The Formosa chairman said a US$3 billion factory could produce 1.2 million tonnes of ethylene and 400,000 tonnes of polyethylene a year
Formosa Plastics Corp (台塑), the nation's largest producer of polyvinyl chloride, yesterday said that it is considering building a factory to make 1.2 million tonnes of ethylene a year in the US state of Louisiana, using shale gas.
The company did not disclose how much it might invest because it needs to conduct further studies to evaluate the project, Formosa Plastics chairman Lee Chih-tsuen (李志村) said in a speech to the company's employees in Greater Kaohsiung.
Lee made the statement a day after Louisiana Governor Bobby Jindal visited the company's headquarters in Taipei.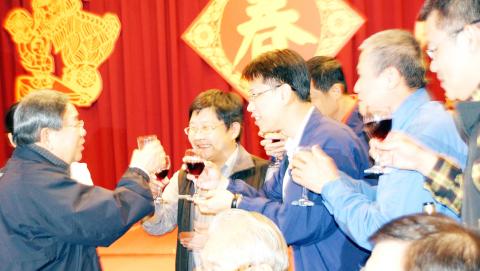 Formosa Plastics Corp chairman Lee Chih-tsuen, left, toasts employees at the company's Greater Kaohsiung regional end-of-year party yesterday.
Photo: CNA
"The governor called on us to invest not only in Texas, but also in Louisiana, because the tax rate in the state is the same as in Texas, while gas prices in Louisiana are actually lower," Lee said.
Ethylene supply in Louisiana has dropped over the past two years because old factories in the state were shut down, reducing its annual production by 500,000 tonnes a year, company president Jason Lin (林健男) said earlier this month.
In addition, an explosion of an ethylene plant in the state in June last year further cut the annual ethylene supply by 800,000 tonnes, he said at the time.
To utilize shale gas in the US, the company is planning to invest US$3 billion in Texas to set up a facility that would produce 2 million cubic meters of gas annually, 1.2 million tonnes of ethylene, 600,000 tonnes of propylene and 400,000 tonnes of high-density polyethylene, Lee said.
He added that the project is expected to be completed in the first quarter of 2017.
"The costs for making ethylene with shale gas are one-third of the costs to make ethylene using other raw materials," Lee said.
The company plans to process ethylene and propylene in the US instead of shipping these products to Asia, because of the high cost of transporting them.
Formosa Plastics registered a 39.3 percent increase in profit to NT$20.64 billion (US$687.21 million) last year, thanks to record profits posted by its subsidiary Formosa Plastics Corp USA, according to the company's data.
However, Formosa Plastics' operating profit declined 19.5 percent to NT$4.44 billion from NT$5.51 billion a year ago, the company said.
Formosa Plastics Corp USA reported a profit of US$1.33 billion last year, increasing Formosa Plastics' profit by US$1.33 billion, the company said.
Lee said profits at Formosa Plastics Corp USA are not likely to be as high this year as last year because of maintenance at its factories and higher gas prices in the US this year.
Formosa Plastics Corp has a 22.59 percent-interest in the US subsidiary.
However, Lee is still optimistic about this year as economies in the US, Europe and China show signs of improvement.
As for the supply side, global ethylene production would rise by only 5.8 million tonnes this year, which is a relatively low level, he said.
Ethylene production in the Middle East accounts for about 17 percent of global ethylene production, and the percentage is not likely to be more than 20 percent in the future because there is not a lot of cheap gas to use in the region, he added.
Nevertheless, Lee said the US Federal Reserve's tapering of its quantitative easing policy is to cause money to flow out of developing countries, posing a threat to the economy of India, a major market for the company.
Meanwhile, Formosa Plastics Group (台塑集團) chairman William Wong (王文淵) agreed yesterday to give an additional NT$10,000 to employees, on top of bonuses which had been set at the equivalent of 4.24 times employees' monthly salaries this year.
The extra NT$10,000 given to employees would increase the group's bonuses to about 4.52 times of employees' monthly salaries, meeting the demand proposed by its union for the group to give out bonuses of 4.5 times of monthly salaries, Lee said.
Formosa Plastics' shares dropped 0.51 percent to NT$78.6 yesterday.
Comments will be moderated. Keep comments relevant to the article. Remarks containing abusive and obscene language, personal attacks of any kind or promotion will be removed and the user banned. Final decision will be at the discretion of the Taipei Times.