Amazon offers refunds for delays
CHRISTMAS OVERLOAD: UPS failed to deliver some packages by Christmas, saying that its network capacity was overwhelmed by the large volume of air packages
Amazon.com Inc, the largest online retailer, offered customers US$20 gift cards and refunds on shipping charges after an avalanche of orders resulted in United Parcel Service Inc (UPS) failing to deliver some packages by Christmas.
Amazon cited failures in UPS' transportation network in messages to customers, saying its own fulfilment centers processed customers' orders in time for holiday delivery.
Amazon is reviewing the performance of the delivery carriers, spokeswoman Mary Osako said in an e-mail.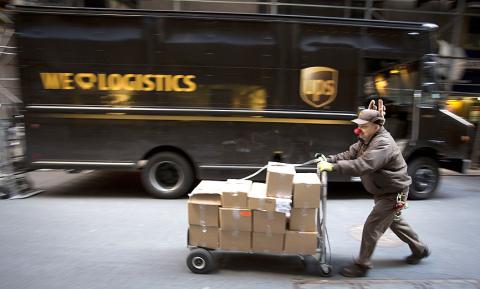 UPS delivery man Vinny Ambrosino prepares to deliver packages on Christmas Eve while wearing a Rudolf nose and antlers in New York on Tuesday.
Photo: Reuters
UPS, the world's largest package delivery company, said in a service update on its Web site that the volume of air packages exceeded its capacity immediately preceding Christmas.
The company was to resume normally scheduled services yesterday after making no pickups or deliveries on Christmas Day, it said.
UPS has long dominated the holiday shipping business in the US because of its fleet of 101,000 signature brown trucks, vans, tractor trailers and motorcycles, according to Bloomberg Businessweek. Its rival, Memphis, Tennessee-based FedEx Corp, has more jets, but its ground delivery fleet is less than one-third the size of UPS' at about 32,000 vehicles.
In October, UPS and FedEx announced their holiday shipping forecasts. FedEx said that it would carry more than 85 million shipments in the first week of this month, while UPS predicted that it would deliver 129 million packages that week and would see a second holiday rush during the week before Christmas.
Neither company said how many packages were delayed, but said it was a small share of overall holiday shipments.
"UPS is experiencing heavy holiday volume and making every effort to get packages to their destination; however, the volume of air packages in our system exceeded the capacity of our network immediately preceding Christmas so some shipments were delayed," UPS said on Wednesday.
Some FedEx customers are able to pick up packages Christmas Day at their local FedEx Express centers.
"We're sorry that there could be delays and we're contacting affected customers who have shipments available for pickup," FedEx spokesman Scott Fiedler said.
Between Thanksgiving and Christmas, FedEx handled 275 million shipments, he said, adding that those that were not delivered in time "would be very few."
While the bulk of consumer holiday spending remains at physical stores, shopping online is increasingly popular. Online spending in the US from Nov. 1 through Dec. 15 rose 9 percent from the same period last year to US$37.8 billion, according to research firm comScore.
The US National Retail Federation, the country's largest retail group, has predicted that overall sales in stores and online will rise by an annual 3.9 percent to US$602.1 billion this holiday shopping season.
Comments will be moderated. Keep comments relevant to the article. Remarks containing abusive and obscene language, personal attacks of any kind or promotion will be removed and the user banned. Final decision will be at the discretion of the Taipei Times.