China Airlines to set up budget Tigerair Taiwan
China Airlines Ltd (CAL, 中華航空) yesterday announced it is to set up a low-cost carrier venture with Tiger Airways Pte of Singapore and plans to launch operations in the fourth quarter next year.
The joint venture, which has a paid-up capital of NT$2 billion (US$67.33 million), is to run a budget airline under the brand Tigerair Taiwan, which is licensed by Tiger Airways and based at the Taiwan Taoyuan International Airport.
NORTHEAST ASIA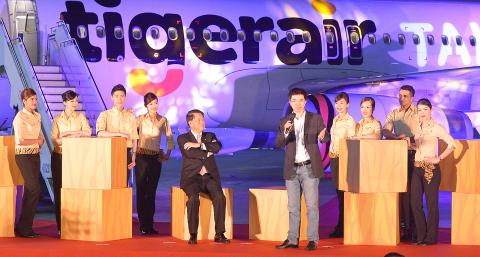 China Airlines Ltd chairman Sun Hung-hsiang, seated center left, and Tigerair CEO Koay Peng-yen, holding the microphone center right, yesterday hold a media event in Taoyuan County announcing a partnership between the two companies called Tigerair Taiwan.
Photo: Yao Chieh-hsiu, Taipei Times
Tigerair Taiwan aims to be a no-frills carrier providing international air travel services across Northeast Asia, including Japan, South Korea and the second-tier and third-tier cities of China.
"China Airlines' knowledge of the Taiwan market, coupled with Tiger Airways' expertise in the no-frills sector, should stimulate demand in the civil aviation market here," CAL chairman Sun Hung-hsiang (孫洪祥) told a press conference.
CAL is not the only airline in Taiwan planning to enter in the low-cost carrier market.
Last month, TransAsia Airways Corp (TNA, 復興航空), which mainly serves passengers on regional and cross-strait routes, said it would establish a budget airline subsidiary within one year to meet rising demand.
The company, which mainly serves passengers on regional and cross-strait routes, said it planned to invest between NT$2 billion and NT$3 billion to operate the subsidiary.
Sun said CAL and Tiger Airways are submitting an application for regulatory approvals from the Ministry of Economic affairs and the Civil Aeronautics Administration (CAA), aiming to operate as quickly as possible.
In addition, the launch of Tigerair Taiwan will help increase CAL's sales performance and profitability, Sun said, as CAL holds a 90 percent share in the new carrier, with its Singapore partner taking the other 10 percent.
Sun expressed optimism that Tigerair Taiwan will "absolutely" turn profit after three years of operation, with the company aiming to break even in its first year of operation.
INITIAL THREE PLANES
Tigerair Taiwan plans to buy three Airbus SAS' 320 series aircraft, with the fleet expected to total 12 planes in 2016 or 2017.
The new joint venture is to allow Tiger Airways to extend its presence into new untapped markets in Northeast Asia, chief executive officer Koay Peng-yen (郭炳炎) said.
Tiger Airways Holding Ltd currently operates a fleet of 50 aircraft to over 50 destinations, from its bases in Singapore, Indonesia, the Philippines and Australia, while CAL operates a fleet of 75 aircraft to 109 domestic and international destinations in its network.
Comments will be moderated. Keep comments relevant to the article. Remarks containing abusive and obscene language, personal attacks of any kind or promotion will be removed and the user banned. Final decision will be at the discretion of the Taipei Times.