Wearable devices on show at IT Month fair
Local companies such as global positioning system (GPS) maker Garmin Ltd (台灣國際航電) are set to showcase wearable devices during the annual IT Month show, which opens on Saturday in Taipei.
"We found a growing number of people taking their smartphones with them to track their body condition [via mobile applications] while exercising, so we decided to develop electronic sport watches that are embedded with GPS to make them unique and more appealing to sports enthusiasts," Kelly Pan (潘世娟), who works at Garmin's sales and marketing unit, told the Taipei Times yesterday.
With Garmin's "Forerunner" smartwatches, users can track their position, heart rate, duration of sporting activity, or even share their entire workout log with others via Bluetooth, Pan said.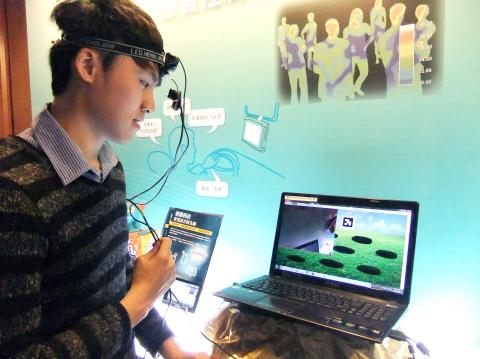 A student from National Taiwan Normal University demonstrates an eye-controlled pointing device at a preview in Taipei yesterday for IT Month, which will be held at the Taipei World Trade Center from Saturday to Dec. 8.
Photo: CNA
Smartwatch maker Sonostar Inc (南北星) will also be exhibiting electronic sport watches at the IT Month tech fair, which runs until Dec. 8 at the Taipei World Trade Center (TWTC) Exhibition Halls 1 and 3.
Targeting golf players as potential consumers, Sonostar said its latest smartwatch products can provide background information on a total of 32,000 golf courts in the world.
Users can also use the gadget to calculate the distance between each golf ball and its target hole, the company said.
"As the PC market's development is getting more dynamic with the launch of new products like wearable devices, the annual IT Month show no longer centers around the theme of desktops and laptops," Taipei Computer Association (台北市電腦公會) chairman Raff Liu (劉瑞復) said at a press conference.
The global market value of wearable devices is estimated to reach US$20.6 billion by 2018, with annual shipments of 191 million units, the Industrial Economics and Knowledge Research Center (IEK) forecast earlier this month.
However, according to South Korean monthly magazine BusinessKorea, because of lukewarm demand, the world's largest smartphone seller Samsung Electronics Co has sold less than 50,000 Galaxy Gear smartwatches since the product hit the market in September.
Comments will be moderated. Keep comments relevant to the article. Remarks containing abusive and obscene language, personal attacks of any kind or promotion will be removed and the user banned. Final decision will be at the discretion of the Taipei Times.