Chinese manufacturing barely expands
Chinese manufacturing barely expanded last month, according to two surveys, indicating an uneven recovery from a painful slowdown in the world's No. 2 economy.
Manufacturers eked out a third consecutive month of growth, according to the survey by the official China Federation of Logistics and Purchasing released yesterday.
The group's purchasing managers' index rose by only a fraction to 51.1 last month from 51.0 in August, which was less than the 51.6 reading that economists expected.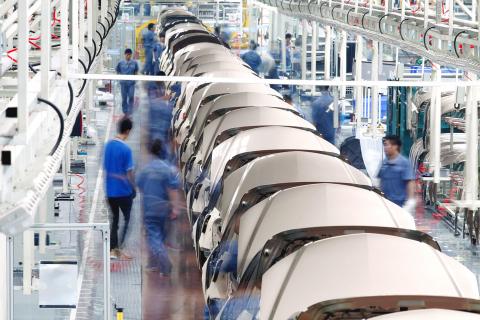 Employees work along a Geely Automobile Corp assembly line in Cixi, China, on June 21 last year.
Photo: Reuters
The federation's report came a day after a private survey by HSBC also indicated weaker-than-expected growth in China's massive manufacturing industry.
HSBC's index rose to 50.2 last month from 50.1 in August, a much smaller increase than suggested by the index's preliminary reading of 51.2.
Both indexes use a 100-point scale on which numbers below 50 indicate contraction.
The reports indicate that China's economic growth will be slower than in previous years as the government tries to steer the economy away from being overly reliant on exports and investment.
"The range of growth narrowed, obviously, showing that the impetus of economic growth is not strong and economic growth will be generally stable in the future," said Zhang Liqun (張立群), an analyst at the China Federation of Logistics and Purchasing.
The federation's report is based on response from 3,000 businesses, while HSBC's survey covers 420 companies.
China's economy expanded 7.7 percent last year, its slowest pace in 13 years.
Year-on-year growth continued at 7.7 percent in the first three months of this year before dropping to 7.5 percent in the April-to-June period.
However, recent data, including strong exports and industrial output, have pointed to renewed strength.
Comments will be moderated. Keep comments relevant to the article. Remarks containing abusive and obscene language, personal attacks of any kind or promotion will be removed and the user banned. Final decision will be at the discretion of the Taipei Times.